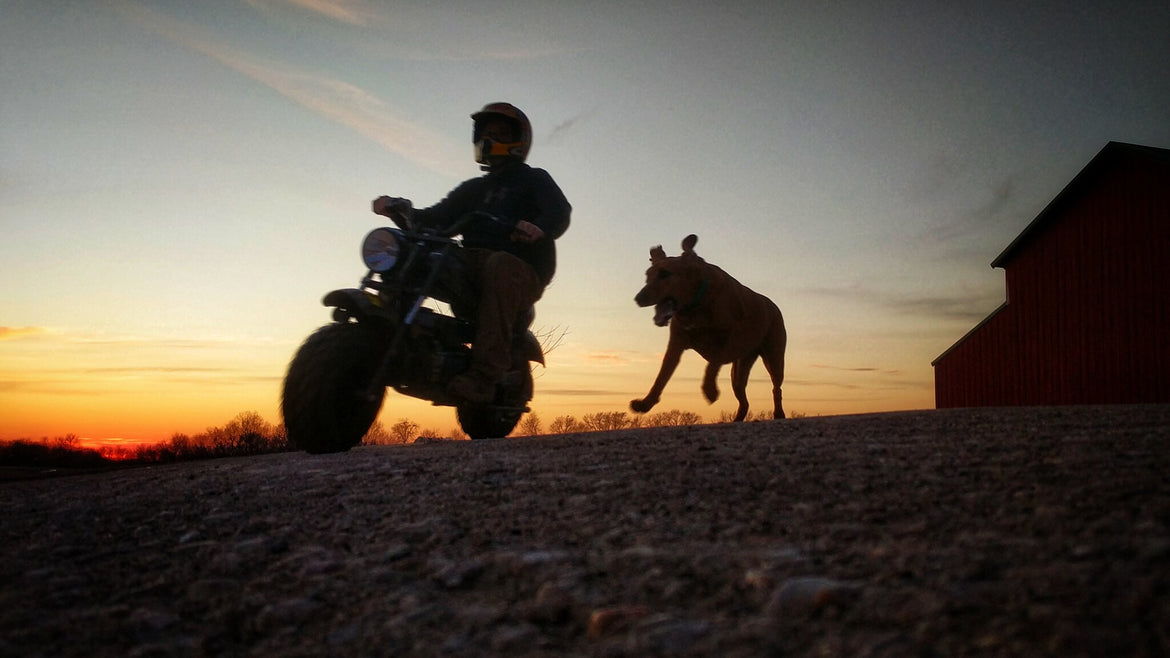 Why TrailMaster Minibike Deserve to buy?
 Few things are so freeing as riding a TrailMaster motorcycle. These rugged machines offer plenty of speed, power, and a list of features that will have you sit up and take notice. The TrailMaster minibike is more than worthy of consideration.
These compact two wheeled vehicles are fast and agile with big old school retro charm on a small frame. A TrailMaster minibike is lightweight with big power to give you the biggest bang for your buck. With an affordable price point these vehicles offer value that's hard to beat.
A TrailMaster minibike is a fun machine! You'll have many hours of enjoyment and you'll make plenty of thrilling memories on one of these vehicles. Hit the trails on a TrailMaster mini bike or dirt bike and see for yourself why so many people are turning to a TrailMaster motorcycle to satisfy their powersports itch.
What is a Minibike?
A minibike is a two wheeled recreational vehicle that traces its popularity back to the 1960s and 1970s. They have been continuously available for purchase since 1959. These fun little vehicles are poised to make a comeback as people take notice of their charm, affordability, and long list of features.
Traditionally minibikes have a four-stroke, horizontal crankshaft engine. They generally come equipped with either a single or two speed centrifugal clutch transmissions with chain final drive. Most have 4" or 6" wheels and a low frame and seat height with elevated handlebars.
In the 1950s minibikes began appearing and were usually hand-made by enthusiasts. Their first use was as pit bikes allowing drag racers to travel quickly and easily in the staging areas during races. That's how pit bikes got their name and where their story began.
In most states minibikes cannot be operated on public roads but they can operate in areas legal for the use of other recreational vehicles. TrailMaster minibikes are legal to ride in 49 states. Start planning your next adventure today.
What is TrailMaster?
TrailMaster Minibikes are a line of products which belong to BV Powersports LLC. This company has made it their mission to provide the best products with the best service before, during, and after the sale. These well built TrailMaster motorcycles offer outstanding value to help you get on the trails.
Every product offered by BV Powersports is carefully selected and must pass strict quality assurance testing. TrailMaster products are the best combination of quality, features, performance, design, and fair price. BV Powersports is looking out for the best interest of its customers.
If you're looking for fun on two wheels, look no further than a TrailMaster mini bike. A reputable distributor like MotoBuys can help you find your next toy. MotoBuys is an authorized online dealer of TrailMaster products.
Browse the online catalogue and see which products MotoBuys has to offer. Have a chat with our experienced staff of powersport enthusiasts who are standing by to answer all of your questions. Take advantage of our deals and special offers. Your TrailMaster Minibike is waiting for you.
TrailMaster Minibikes
A TrailMaster Minibike will turn heads and capture the imagination with its retro style. With a sturdy steel frame and rugged suspension system a TrailMaster motorcycle has the ability to accommodate a rider of up to 200lbs. This blast from the past looks like the old school minibike of yesteryear and is built to last.
TrailMaster MiniBikes come with extra wide 19x7-8 profile tires that are designed to glide over just about any terrain. This machine features a hydraulic disc brake in the rear for ample stopping power. The torque convertor (CVT clutch with belt) on a TrailMaster minibike makes all the difference. Why not try it for yourself?
The TrailMaster motorcycle is powerful too. It features a 196cc gas powered, air cooled engine with an overhead valve. It's simple to operate and is very low maintenance. The TrailMaster minibike is rear wheel chain driven. Take one for a spin and fly over the trails* (*:Always refer to owner's manual for detailed safety instruction and use caution).
TrailMaster  minibikes come equipped with a single headlight that's always on for safety. There's a small cargo rack behind the seat to hold your stuff. You can add a touch of personal style by choosing from one of many color options.
Unsure which TrailMaster motorcycle is for you? They both look like so much fun it's hard to choose just one. Which TrailMaster minibikes you choose comes down to your style and personal preference. The perfect machine is waiting for you.
The TrailMaster MB200 minibike has all the bells and whistles. With smooth and sleek lines it's sure to impress even the toughest critic and get you noticed out on the trails. A TrailMaster MB200 is designed to be a true TrailMaster motorcycle and it shows. This bad boy will allow you to show some style* (*:Always refer to owner's manual for detailed safety instruction and use caution).
If you're looking for something a bit more rough and rugged the TrailMaster Storm 200 is for you. This stripped down TrailMaster minibike manages to offer all of the features of the TrailMaster MB200 with a look that screams "I'm ready for the trails". This model is designed to look and feel like the TrailMaster minibikes that it is.
There's only one question left to answer. How fast is the TrailMaster minibike? These mean machines will have you cruising at speeds of up to 35 mph* (*Lab tested max. speed, real max. speed may vary, already use caution and refer safety instructions)!
TrailMaster Customer Support
TrailMaster takes good care of its customers before, during, and after the sale. You're in good hands here so you can shop with confidence. Whether you're still considering purchasing a TrailMaster minibike or if you've already bought one, you'll never be alone. TrailMaster will work hard to answer all your questions and resolve any problems.
Browse the comprehensive online catalogue and check out all the specs and features. Speak to courteous and knowledgeable sales staff and get answers to all your questions. Take advantage of the fair and helpful credit financing service to help satisfy your budget.
Once you take the plunge and make your purchase TrailMaster will always be on your side. TrailMaster products are well built and designed to last. This claim is backed up with a comprehensive warranty. You can be sure that you'll end up with a machine that runs great and is free of defects.
If something goes wrong with your TrailMaster product, you'll have access to free technical support to authorized dealer. Licensed techs are standing by to help. No need to worry about parts either. TrailMaster carries parts for all of the products they sell.
As an authorized online dealer MotoBuys is positioned to offer support for your TrailMaster product. We're here for our customers and we'll work hard to resolve any issues that you may have. Our commitment to quality customer service begins the moment you start shopping with us and continues for the life of your machine.
Thinking of buying a TrailMaster minibike? MotoBuys is ready to serve. Speak to our staff and let us help you live the dream.