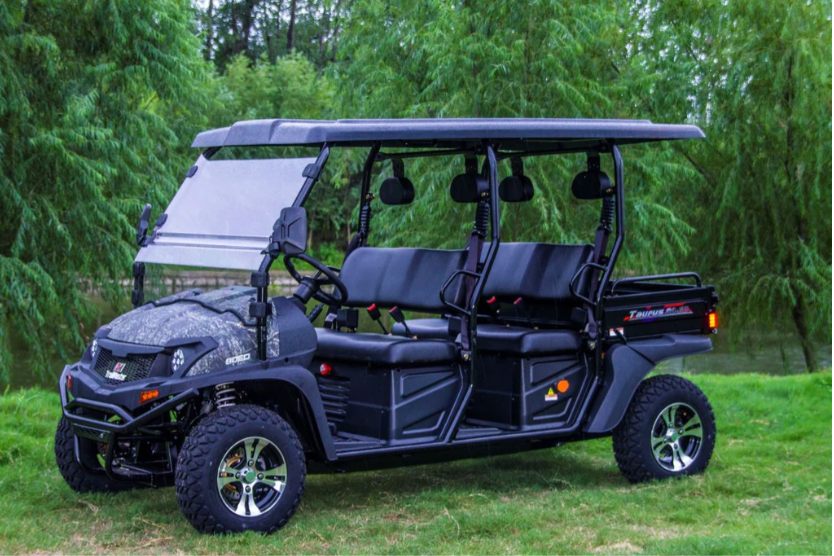 Utility Task Vehicles: Revolutionizing Outdoor Adventures
Utility task vehicles (UTVs), also known as side-by-sides, are quickly becoming a popular choice for outdoor enthusiasts seeking versatile, rugged, and powerful machines. These vehicles are transforming the way people explore the outdoors, thanks to their impressive capabilities and diverse applications. In this article, we'll delve into the world of UTVs and discuss their unique features, the benefits they offer, and how to choose the perfect UTV for your needs.
What Makes UTVs Unique? 
UTVs differ from ATVs in several ways, offering distinct advantages for outdoor enthusiasts:
1. Seating Configuration: UTVs feature side-by-side seating for multiple passengers, making them ideal for group adventures and family outings.
2. Cargo Space: UTVs are equipped with a spacious cargo bed, allowing you to carry more gear, supplies, or even small equipment for work tasks.
3. Rollover Protective Structure (ROPS): UTVs come with a built-in ROPS, providing an added layer of safety for the occupants.
4. Off-Road Performance: With powerful engines, 4x4 capabilities, and robust suspension systems, UTVs can tackle challenging terrains with ease.
Versatile Applications of UTVs 
Utility task vehicles are designed to handle a wide range of activities, making them suitable for various outdoor pursuits:
1. Recreation: UTVs are perfect for exploring off-road trails, hunting, camping, and other outdoor adventures.
2. Work Tasks: With their cargo-carrying capabilities and towing capacity, UTVs are ideal for tasks on farms, ranches, or construction sites.
3. Search and Rescue: UTVs are increasingly being used by emergency responders for search and rescue missions, thanks to their off-road prowess and ability to transport multiple people and equipment.
Choosing the Right UTV
When selecting a UTV, consider the following factors to ensure it meets your specific needs and preferences:
1. Intended Use: Determine whether you primarily need a UTV for recreational, work, or specialized purposes, and choose a model accordingly.
2. Engine Size and Power: Match the engine size and horsepower to your intended use – larger engines and higher horsepower provide better performance for heavy-duty tasks or high-speed trail riding.
3. Cargo Capacity and Towing: Evaluate the cargo bed size and towing capacity to ensure the UTV can handle your gear and equipment needs.
4. Seating Capacity: Select a UTV with the appropriate seating capacity to accommodate your passengers comfortably.
UTV Accessories and Customization
Customizing your UTV with various accessories can enhance its performance, comfort, and utility:
Tires: Choose tires suitable for the terrain you'll frequently encounter, such as mud, sand, or rocky trails.

Lighting: Improve visibility with LED light bars or additional headlights for night riding or low-light conditions.

Windshields and Roofs: Protect yourself from the elements with a windshield, roof, or enclosure.

Winches: Equip your UTV with a winch for towing, pulling, or self-recovery in difficult situations.
As utility task vehicles continue to gain popularity, it's evident that they are revolutionizing the way people experience the great outdoors. With their unique features, versatility, and impressive capabilities, UTVs offer an exciting new way to explore, work, and play in nature.
Trail Etiquette and Safety
When enjoying your UTV, it's essential to follow proper trail etiquette and safety guidelines:
Stay on Designated Trails: To minimize environmental impact and respect landowners' rights, always ride on marked trails and avoid creating new ones.

Yield to Other Trail Users: Be courteous and yield to pedestrians, mountain bikers, and equestrians. Slow down when passing others and communicate your intentions.

Obey Signage and Regulations: Follow posted signs, including speed limits, trail closures, and other restrictions. Ensure you have any necessary permits and adhere to local laws.

Leave No Trace: Carry out all trash, respect wildlife, and avoid damaging natural features. Leave the trails in the same or better condition for others to enjoy.
Storing and Transporting Your UTV
Proper storage and transportation are crucial for maintaining your UTV's performance and longevity:
Clean and Inspect: After each use, clean your UTV thoroughly to remove dirt and debris. Inspect for any damage or necessary maintenance.

Storage: Store your UTV in a dry, sheltered area to protect it from the elements. Use a cover for added protection.

Trailer Selection: Choose a trailer that can accommodate your UTV's weight, dimensions, and specific requirements. Ensure the trailer is in good condition and properly maintained.

Secure Your UTV: Use appropriate tie-downs and straps to secure your UTV during transportation. Regularly check and adjust the tension to prevent movement or damage.
Finding UTV Riding Events and Clubs
Participating in UTV events or joining clubs can help you connect with like-minded enthusiasts, share experiences, and learn from others:
Racing and Rallies: Many organizations and venues host UTV races or rallies, providing opportunities to compete or simply enjoy the camaraderie of fellow riders.

Guided Tours: Guided UTV tours can offer unique insights into local history, geology, or ecology while showcasing the best trails and scenery in a given area.

UTV Clubs and Online Communities: Connect with others who share your passion for UTV riding through local clubs or online forums and social media groups.
UTV Maintenance Tips
Keeping your UTV well-maintained is essential for its performance, safety, and longevity:
Regular Inspections: Perform regular inspections of the suspension, steering, brakes, and drivetrain components. Address any issues promptly to avoid costly repairs or accidents.

Fluid Checks: Monitor the levels of engine oil, coolant, brake fluid, and other fluids. Top off or change them according to the manufacturer's recommendations.

Spark Plugs and Air Filters: Replace spark plugs and clean or replace air filters as needed to maintain optimal engine performance.

Battery Care: Keep the battery clean, well-charged, and securely mounted. Replace it if it fails to hold a charge or shows signs of damage.
By understanding the many ways utility task vehicles are transforming outdoor experiences, you can make an informed decision when selecting the perfect UTV for your needs. Whether you're seeking a vehicle for work, play, or a combination of both, UTVs offer unmatched versatility, power, and performance, providing you with a truly unforgettable adventure.
Weather and Terrain Considerations
When planning your UTV adventures, take weather and terrain conditions into account to ensure a safe and enjoyable experience:
Seasonal Changes: Understand how seasonal changes may affect trail conditions, such as snow or ice in the winter, muddy trails during the rainy season, or increased dust during dry periods.

Water Crossings: Exercise caution when crossing streams or rivers. Know your UTV's maximum water fording depth and avoid fast-moving or deep water.

Navigation Tools: Bring along a GPS device or a smartphone with a reliable mapping app to avoid getting lost. Always carry a paper map and compass as backup.

Emergency Preparedness: Prepare for potential weather-related emergencies by carrying a first-aid kit, extra clothing, food, water, and other essential supplies.
UTV Performance Upgrades
Customizing your UTV with performance upgrades can further enhance its capabilities, allowing you to tackle even more challenging terrain:
Suspension Upgrades: Improve ride comfort and handling by upgrading to aftermarket shocks, springs, or an entire suspension system tailored to your specific needs.

Exhaust Systems: Upgrade to a high-performance exhaust system for increased horsepower, torque, and improved sound.

Engine Tuning: Optimize your UTV's engine performance with aftermarket tuning components or electronic control module (ECM) adjustments.

Skid Plates and Guards: Protect your UTV's undercarriage, suspension, and drivetrain components from damage with heavy-duty skid plates and guards.
Tips for Long-Distance UTV Adventures
When embarking on multi-day or long-distance UTV trips, consider these helpful tips to make the most of your adventure:
Plan Your Route: Carefully plan your route, including overnight stops, fuel availability, and points of interest. Allow for flexibility in case of unexpected changes or detours.

Pack Wisely: Balance the need to carry essential supplies with the importance of not overloading your UTV. Distribute weight evenly and secure cargo to prevent shifting.

Communication: Carry two-way radios or satellite communicators to stay in touch with your group or call for assistance in case of emergencies.

Buddy System: Travel with at least one other UTV or a group of riders for safety, support, and companionship.
Insurance and Legal Considerations
Ensure your UTV riding experience is worry-free by addressing insurance and legal requirements:
Insurance: Obtain appropriate insurance coverage for your UTV, including liability, collision, and comprehensive policies. Consider adding coverage for accessories, modifications, or trailers.

Registration and Licensing: Register your UTV and obtain any required permits, licenses, or decals as mandated by your state or local jurisdiction.

Trail Permits: Research and obtain necessary trail permits or passes for the areas you plan to ride in.

Off-Road Vehicle Laws: Familiarize yourself with local off-road vehicle laws, including helmet requirements, sound restrictions, and age limits.
Responsible UTV Riding
As a UTV enthusiast, it's essential to ride responsibly and promote a positive image of the sport:
Tread Lightly: Minimize your impact on the environment by staying on designated trails, avoiding sensitive habitats, and practicing Leave No Trace principles.

Respect Wildlife: Observe wildlife from a distance, and avoid disturbing or feeding them. Be mindful of seasonal closures or restrictions to protect nesting or breeding animals.

Be a Good Ambassador: Demonstrate responsible riding behavior and educate others about the importance of safety, environmental stewardship, and respect for landowners and other trail users.
In summary, utility task vehicles (UTVs) are revolutionizing outdoor experiences by offering exceptional versatility, power, and performance for various applications. From recreational adventures to work tasks and even specialized uses like search and rescue, UTVs provide unique features and benefits that set them apart from other off-road vehicles. Choosing the right UTV, along with proper maintenance, accessories, and performance upgrades, ensures that you can tackle any terrain with confidence. By following trail etiquette, safety guidelines, and legal requirements, you can enjoy a worry-free and responsible off-road experience. Moreover, connecting with fellow UTV enthusiasts through events, clubs, and online communities can further enhance your passion for this exciting outdoor activity. With the growing popularity of UTVs, there's no doubt that these incredible machines are transforming the way we explore, work, and play in the great outdoors.