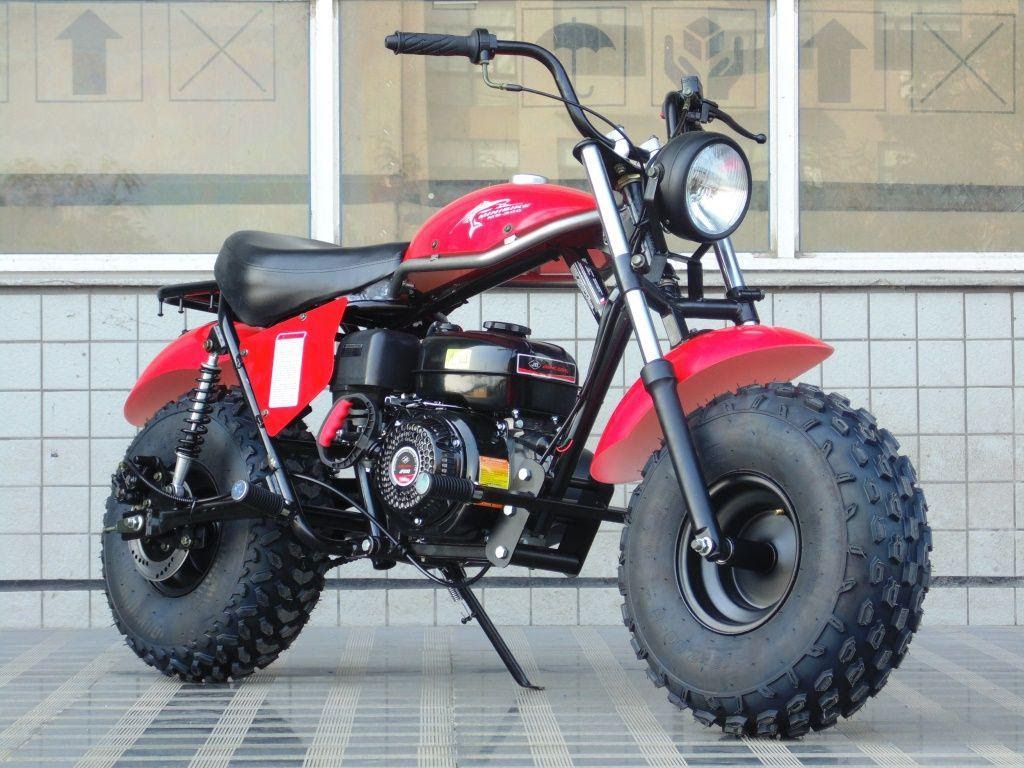 TrailMaster Mini Bike Collections
Whether you're an amateur mini bike rider or a seasoned pro looking for a new ride, there is a lot to be said about the Trailmaster mini bike.
Finding the right bike - one that matches your drive, outdoor ambition, and personality - can be a challenge indeed.
Before you settle for a sporty top-of-the-line motorcycle, we'd like to introduce you to one of the leading lightweight mini bikes on the market today, the classic Trailmaster mini bike. 
Trailmaster mini bike Introduction
In the world of Powersports, Trailmaster is a name that's synonymous with brave and bold high-performance off-road vehicles.
Whether you're after a high-powered ATV or a simple lightweight mini bike, Trailmaster has it all. From heavy-duty go-karts to traditional UTVs and ATVs, off-road mini bikes, and street legal scooters.
When it comes to their Trailmaster mini bikes you need to know that these bad boys were made more for trail riding and less for motocross racing.
What does this mean?
Trailmaster mini bikes are ideal for going off the beaten path. Whether it's dirt patches, hills, and valleys you're after, these cycles are jam-packed with off-road specific features that will enable you to tackle any kind of terrain.
For starters, they have bigger tires although the wheels themselves are smaller allowing for more rubber which, combined with a soft suspension contribute to giving you a smoother and more comfortable ride.
That's not all that aids in giving you a more comfortable ride, however, because these Trailmaster mini bikes also bear a hydraulic shock type rear and corresponding fork shocks in the front which are pivotal in protecting your spine and back when out on the trails.
The single, always-on front headlight coupled with drum rear brakes encourage safe riding practices.
You might be wondering, what is the difference between a mini bike and a dirt bike? While dirt bikes are best suited for specific types of off-road riding and will go faster over tougher terrain, they are also more expensive. Mini bikes, on the other hand, will provide a more simpler yet rewarding and fun riding experience for a lot cheaper.
With two mini bike models to choose from the Trailmaster MB200 2 mini bike and Trailmaster Storm 200 mini bike both of which feature a reliable single-cylinder 196cc, 4-stroke, OHV engine you're spoilt for choice.
Let's take a closer look at these two unique mini bikes.
Are you looking for the ultimate mini bike? Look no further than the Trailmaster MB200 2
Boasting a robust old-school retro design equipped with contemporary specs, this off-road machine is great value for money.
Go off-road with confidence thanks to the large terrain tires and the continuously variable transmission (CVT) drive system. Lightweight in nature, coming in at just 167.5lbs (76kg) and able to carry up to 200lbs (91kg) this mini bike packs a punch.
It is suitable for both teenager and adult riding.
So, what else sets this mini bike apart?
Comfort-conscious bike
Kiss bumps and uncomfortable shocks goodbye thanks to the front and rear shock absorbers. A strategically placed switch on the handlebars that is easily accessed by your thumb makes revving this machine a seamless affair.
Premium safety features
Planning on hitting the trail in the forest or after dark? No need to worry. The front-headlight that's always on will make sure you don't get lost and can clearly make out what's in your path.
Protective chains and sprocket guards alongside a muffler guard and belt guard add to the unique safety of this off-roader.
The hand-operated brake makes it extremely convenient to stop the bike and removes the need to lift your foot from the bike pegs.
Low maintenance
Owing to its simplicity, ergonomic design, and absence of a battery, the Trailmaster MB200 2 MINI bike is extremely low on maintenance and service requirements.
Perhaps you desire to explore the great outdoors but need a more budget-friendly option without sacrificing grit and raw power? If so, then the Trailmaster Storm 200 Mini bike just might be what you're looking for.
Don't let this mini bike's miniature stature put you off though because it boasts an impressive 196cc, single 4-stroke air-cooled cylinder engine capable of speeds of up to 24mph (39kh/h) while carrying loads of up to 175lb.
Equipped with 145/70 all-terrain front and back tires, the Trailmaster Storm 200 Mini bike gives great traction on all outdoor surfaces.
What are some other cool features?
Enjoy ATV-style riding
Thanks to the sturdy steel frame, rugged suspension, and wide tire profile, the Storm 200 gives riders an ATV-style riding experience for a fraction of the cost of an actual ATV.
Easy-to-operate
It doesn't get any easier to operate a mini bike than it does the Storm 200. Boasting a transistor-controlled igniter (TCI) and recoil cord starting system, go from 0 to 25mph in seconds.
Fuel efficient
The Storm's 0.81gallon tank is extremely fuel-efficient, allowing you to hit the great outdoors with confidence that you can go out and come back without the added hassles of continuous refueling. 
Trailmaster Mini Bike MB200-2 VS Trailmaster Storm 200 Mini Bike
What distinguishes the Trailmaster Mini Bike MB200-2 from its sister mini bike the Trailmaster Storm 200 Mini Bike?
Is one mini bike ultimately more superior than the other? Or is it just a flex by one? Let's compare.
Looking at the specifications of the bike models, we can see that by all measures the Storm 200 is generally smaller both in size and in engine capacity compared to the MB200 version.
What's more, the Storm 200 weighs less than the Trailmaster MB200 2 mini bike, and subsequently can also carry a lesser maximum load of 175lbs vs 200lbs.
On the upside, the Storm 200 is marginally faster than the Trailmaster MB200 2 mini bike and carries more horsepower.
Taking into consideration all these unique specs, it's not hard to see why the Storm 200 is a fan favorite with the younger bikers and is more suited to them than older personalities.
This isn't to say, however, that adults cannot enjoy the experience provided by the Storm 200. Indeed, they can take advantage of the superior riding characteristics of the Trailmaster Storm 200 when hitting the outback without issue.
So what's the bottom line?
These two mini bikes, while similar in many respects, still have their differences and it is these which serve to distinguish them.
Also, the Storm 200 model is typically cheaper and more budget-friendly than the Trailmaster mb200 mini bike for those comparing from a cost perspective. 
Conclusion
So ultimately what's the deciding factor between the Trailmaster MB200 2 MINI bike and Trailmaster Storm 200 MINI bike? What does it come down to?
Well, firstly take into account your skill level. Are you a rookie or are you a veteran rider? Also, consider your height and weight.
If you're still unsure, discussing your concerns with a licensed Trailmaster bike dealer such as the team over at Motobuys can help you make an informed decision.
As one of the best Trailmaster mini bike dealers, our technical support can guide you expertly before making any purchases.
Furthermore, buying from Motobuys gives you access to post-sale support, guaranteed manufacturer warranties, and a dealer that can help you source genuine Trailmaster spare parts.
If you'd like to talk to someone at Motobuys about Trailmaster mini bikes don't hesitate to get in touch with us.
*Pricing and inventory availability are based on the blog's published date and may not reflect current pricing or availability