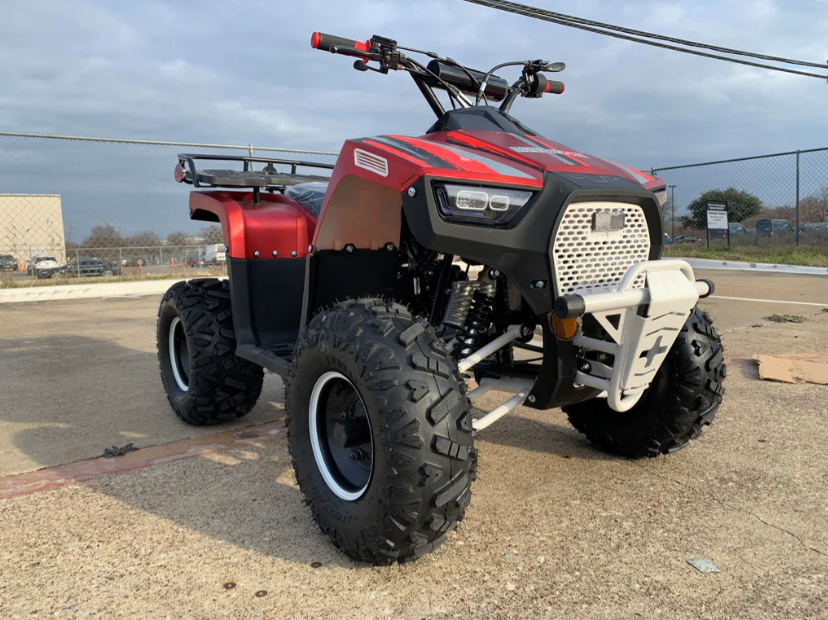 Top ATV Riding Tips & Destinations for Powersports Enthusiasts
ATV riding is a popular and exhilarating outdoor activity enjoyed by powersports enthusiasts all over the world. For those seeking adventure, off-roading on all-terrain vehicles offers a unique experience, combining adrenaline and stunning scenery. In this blog post, we'll dive into the world of ATV riding, discussing essential tips, safety guidelines, and some of the best destinations for unforgettable off-road adventures.
Essential Tips for ATV Riding
Before you embark on your ATV riding journey, it's crucial to familiarize yourself with some essential tips to make the most of your experience:
Choose the right ATV: Ensure that the ATV you choose is suitable for your skill level, weight, and height. Beginners should opt for smaller, lighter models with automatic transmissions for easier handling.

Wear appropriate safety gear: Invest in a quality helmet, goggles, gloves, long-sleeved shirts, long pants, and over-the-ankle boots to protect yourself from potential injuries.

Inspect your ATV: Regularly check the tire pressure, brakes, and fluid levels to ensure your vehicle is in top working condition.

Learn basic riding techniques: Practice balancing, turning, and controlling your speed on flat terrain before venturing onto more challenging trails.

Ride within your skill level: Avoid tackling steep hills, rough terrain, or high-speed tracks until you have gained enough experience and confidence.
ATV Safety Guidelines
ATV riding can be dangerous if not approached with caution. Keep these safety guidelines in mind to minimize risks:
Never ride under the influence of alcohol or drugs.

Avoid riding on paved roads, as ATVs are designed for off-road use and can be difficult to control on smooth surfaces.

Follow the manufacturer's recommendations regarding the number of riders and weight limits for your ATV.

Ride in designated areas and respect the rules and guidelines of the trail.

Always inform someone about your riding plans, including your route and estimated time of return.
Top ATV Riding Destinations
Now that you're equipped with essential tips and safety guidelines, it's time to explore some of the best ATV riding destinations around the world:
Moab, Utah, USA: With its breathtaking red rock landscapes, Moab offers a diverse range of trails, from beginner-friendly routes to challenging tracks for experienced riders.

Paiute ATV Trail, Utah, USA: This extensive trail system spans over 900 miles, traversing through stunning mountain ranges, dense forests, and picturesque valleys.

Hatfield-McCoy Trails, West Virginia, USA: Comprising over 700 miles of interconnected trails, the Hatfield-McCoy system caters to riders of all skill levels, winding through the beautiful Appalachian Mountains.

Whistler, British Columbia, Canada: Whistler's vast network of trails includes terrain for all abilities, from gentle rides through lush forests to adrenaline-pumping mountain climbs.

Andalusia, Spain: Experience the thrill of ATV riding in the picturesque landscapes of southern Spain, with a mix of coastal and mountainous terrain to explore.
Preparing for an ATV Riding Trip
Proper planning and preparation are essential for a successful ATV riding adventure. Here are some tips to ensure you're ready for your off-road experience:
Research your destination: Familiarize yourself with the trail conditions, difficulty levels, and any special rules or permits required for the area you plan to visit.

Check the weather: Keep an eye on the weather forecast for your chosen destination, as adverse conditions can significantly impact your riding experience and safety.

Pack essentials: Bring along a basic toolkit, first-aid supplies, water, snacks, a map, a GPS device or smartphone with navigation capabilities, and extra layers of clothing to accommodate changing weather conditions.

Plan for emergencies: In case of an accident or mechanical issue, ensure you have a means of communication to call for help and a basic understanding of how to repair common ATV issues.
Joining an ATV Riding Club or Group
Participating in an ATV riding club or group can be a great way to enhance your off-roading experience. Here are some benefits of joining a group:
Learn from experienced riders: Gain valuable knowledge and tips from seasoned ATV enthusiasts who can help you improve your riding skills and techniques.

Discover new trails: Riding with a group can introduce you to new destinations and trails you may not have explored on your own.

Socialize with like-minded individuals: Share your passion for ATV riding with others, forge new friendships, and make lasting memories together.

Participate in organized events: Many ATV riding clubs organize events, rides, and even competitions, providing opportunities for fun and camaraderie among members.
ATV Riding Etiquette
As you venture into the world of ATV riding, it's essential to understand and practice proper etiquette on the trails. Here are some guidelines to follow:
Yield to other trail users: Always give right-of-way to hikers, mountain bikers, and equestrians. Slow down and communicate your intentions when approaching other trail users.

Stay on designated trails: Respect the environment and minimize your impact by sticking to marked trails and avoiding sensitive areas.

Keep noise levels low: Be considerate of other trail users, wildlife, and nearby residents by maintaining reasonable noise levels.

Leave no trace: Carry out all trash, and do not disturb plants, animals, or historical artifacts.

Practice good trail maintenance: Volunteer for trail workdays or donate to organizations that maintain and protect the trails you enjoy.
Enhancing Your ATV Riding Skills
Like any sport or activity, practice and continuous learning are key to improving your ATV riding abilities. Here are some ways to enhance your skills:
Take an ATV safety course: Many organizations offer safety courses that cover essential riding techniques, basic maintenance, and responsible riding practices.

Attend workshops or clinics: Participate in workshops or clinics organized by ATV dealerships, clubs, or experienced riders to learn advanced techniques and tips.

Practice regularly: The more time you spend on your ATV, the more comfortable and proficient you'll become.

Learn from others: Watch experienced riders, ask questions, and observe their techniques to gain insight and improve your own riding abilities.
Customizing Your ATV for Optimal Performance
Customizing your ATV can help you achieve better performance and comfort while riding. Consider these modifications to enhance your off-road experience:
Tires: Select tires suited for the terrain you'll be riding on, whether it's mud, sand, or rocky trails.

Suspension: Upgrading your ATV's suspension can improve handling, stability, and ride comfort, especially on rough terrain.

Exhaust: A performance exhaust system can increase horsepower and torque, providing a more powerful and responsive ride.

Protective accessories: Installing brush guards, skid plates, and nerf bars can provide added protection for your ATV against potential damage from rocks, debris, and other obstacles.
In conclusion, ATV riding offers powersports enthusiasts an unparalleled opportunity to explore the great outdoors and experience the thrill of off-roading. By following the essential tips, safety guidelines, and trail etiquette outlined in this blog post, you can embark on exciting and unforgettable ATV adventures across various destinations. Preparing adequately for your riding trips, joining clubs or groups, and enhancing your skills will not only help you become a more responsible and skilled rider but also maximize your enjoyment of this exhilarating activity. As you grow more proficient, consider customizing your ATV to optimize its performance and adapt to your unique riding preferences. Embrace the world of ATV riding and discover the endless possibilities for adventure, camaraderie, and personal growth that await you on the trails.