Holiday Gift Guide — Kids' Motorsports Gift Collection
Motorsports are booming, with a global market of over $30 billion. It's no wonder that kid-sized versions of these popular vehicles are on many holiday wish lists. This guide will help you make the right choice if you are shopping for a dirt bike, ATV, go-kart, or mini jeep for kids this holiday season.
How To Choose a Mini Jeep for Kids
Ride-on toys have been a popular gift for kids since pedal cars hit the market in the 1890s. Mini jeeps are a modern motorized version of this long-popular toy designed to look like the vehicles adults currently drive. Here are a few factors to consider when shopping for a mini jeep as a holiday gift.
Safety Features
Safety is the most important factor when considering any motorized vehicle for a child. A mini jeep for kids should have safety belts, double lockable doors, and a front spring suspension system that provides a smooth and safe ride.
Check the vehicle you are considering to ensure that there are no sharp edges, points, protrusions, plastic burrs, or exposed screws that could cause injuries. Parts should fit together well and contain high-quality, non-toxic materials.
Weight Capacity, Speed, and Age Limit
Read the manufacturer's recommendations to see if the jeep you are considering is appropriate for your child's age, height, and weight. Find out the vehicle's maximum speed and whether it comes with parental controls.
Intended Use
Consider what type of terrain your kid will drive over. A mini jeep that your kids will drive on off-road trails will need more power and ground clearance than one that they will only drive around the backyard.
Extra Features
Other features to consider in a mini jeep for kids are premium sound systems, Bluetooth, and USB or AUX ports. If your child will be riding with a sibling or friend, look for a model with two seats.
Recommended Kids' Mini Jeeps
Motobuys offers a wide variety of mini jeeps for kids to choose from. Check out a few of the most popular models before you buy a kids' mini jeep.
Willys Off-Road Series 1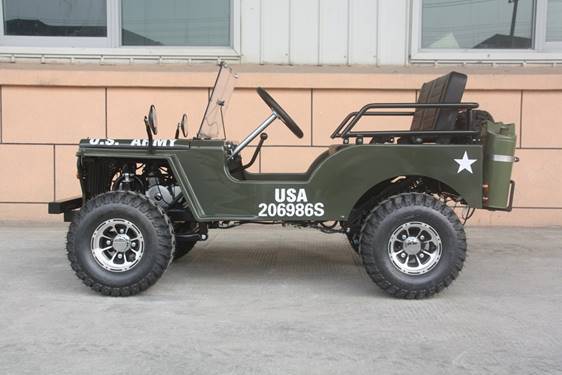 The Willys Off-Road Series 1 model is the original mini jeep for kids. It features an electric start, semi-automatic transmission, keyed ignition, four-stroke engine, and rack and pinion steering. This jeep is easy to operate and features a simple but bold design.
Highlights of this jeep include:
Custom aluminum wheels

Telescopic steering wheel

Custom armrests for the driver and passenger

Adjustable seat

Easy-to-use parking brake
It has a ground clearance of 9.84" and a 51.18" wheelbase.
RPS Mini-Jeep Style 125cc Series 4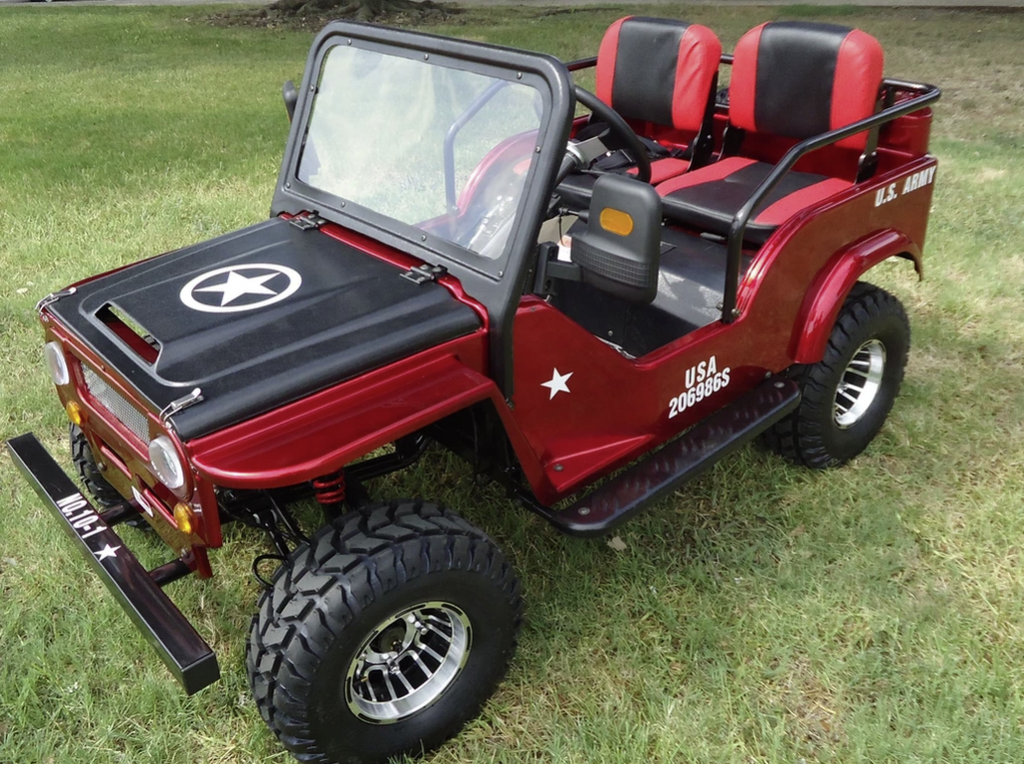 The RPS Mini-Jeep Style 125cc Series 4 model is an upgraded mini Jeep Wrangler offroad vehicle. It has a four-stroke air-cooled engine that produces the low-down torque required for drift and wheel spins.
This mini jeep's top features include:
Rear engine for better balance

Seating for two passengers

Electric start, lights, turn signals, and horn

Adjustable speed limiter control

Rugged off-road tires and steel frame
This mini jeep for kids also has a heavy-duty chain drive, independent front and rear disc brakes, and a rugged four-wheel shock suspension for superior off-road performance. It comes in black, burgundy, green camouflage, and Army green.
Deluxe Upgraded Mini-Jeep GO KART- Series 2
The Deluxe Upgraded Mini-Jeep GO KART- Series 2 model will make your kids feel like real off-roaders. This deluxe vehicle has premium safety features, including dual roll bars, an over-the-shoulder harness, and a three-speed semi-automatic transmission that limits the maximum speed with three gears.
You will love the safety features of this vehicle, while your kids will love the realism. It even comes with a mock gas can.
This jeep's highlights include:
Electric start, lights, turn signals, and horn

Speedometer, fuel gauge, and gear indicators

Rugged, off-road tires with custom chrome wheels and disc brakes

Four-stroke air-cooled engine

Full rack and pinion steering
This vehicle has a ground clearance of 3.5" and a 42.2" wheelbase.
RPS Youth Mini-Jeep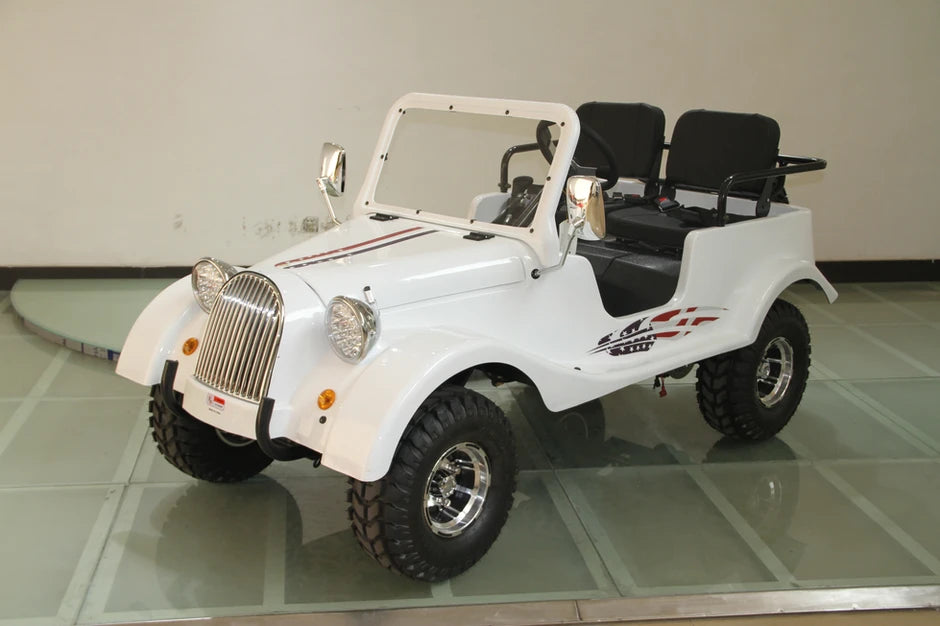 The RPS Youth Mini-Jeep is an instant classic in the style of the International Harvester Scout. It features a larger engine and heavier weight capacity than previous models. Your kids will ride in style while this jeep's proven drive train provides hours of fun.
This mini jeep for kids best features includes:
Full-size spare tire

Fully operational blinkers, headlights, brake lights, and reverse lights

150cc air-cooled engine

Automatic transmission with reverse

Front and rear suspension
This vehicle has a 286 lb. weight capacity and 5" minimum ground clearance.
Choosing a Kids' Dirt Bike
If your kid prefers some two-wheeled adventure, a youth dirt bike could be the perfect gift. While the factors to consider are similar for dirt bikes and mini jeeps, there are also some differences.
Child's Height and Weight
Your kid should be able to place both feet on the ground while sitting astride the dirt bike. If your child has trouble getting on or off the bike or keeps falling over when stopping, the bike is probably too tall. However, if your kid has to hunch over to ride, the bike is too short. Kids over 100 lbs. need dirt bikes with more powerful engines and sturdier frames.
Experience Level
Inexperienced riders should avoid driving too fast while they are learning. Choose a bike with a smaller engine and a throttle limiter to ensure beginning riders can learn safely. Bikes with four-stroke engines and automatic transmissions are more beginner-friendly because they don't accelerate as abruptly and your child won't have to worry about changing gears.
Kids' Dirt Bike Recommendations
The Motobuys team can help you pick the perfect kids' dirt bike. One of these three models will make your kid's holiday special.
Trailmaster TM10 Dirt Bike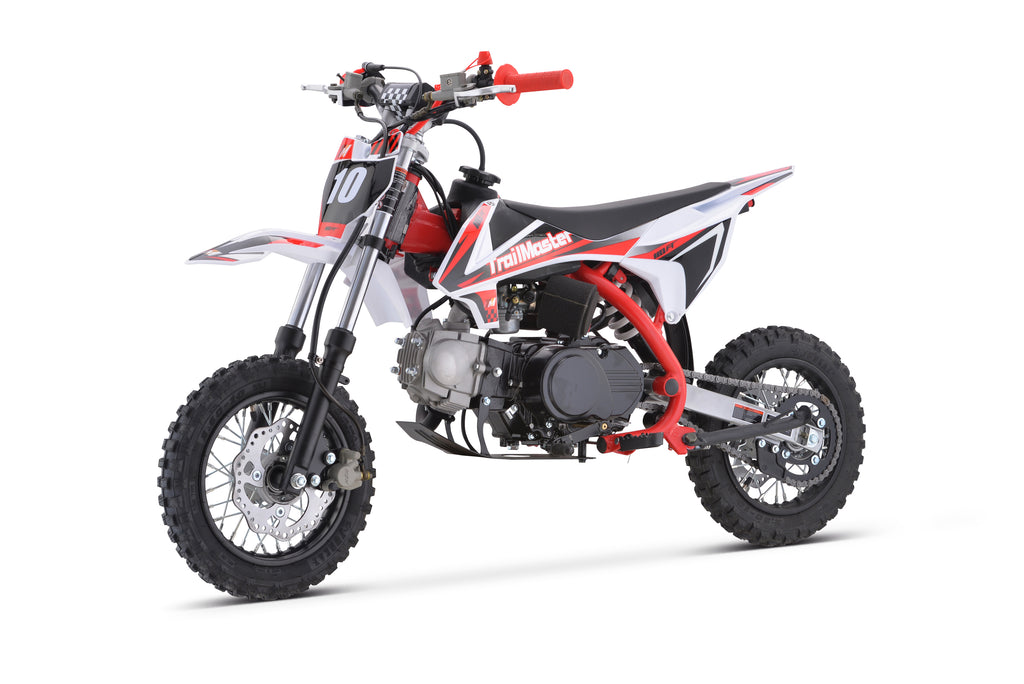 The Trailmaster TM10 Dirt Bike has a welded steel frame and twin-spar motor mounts for the ideal power-to-weight ratio and quick access for maintenance. The bike's top features include:
110cc engine

Semi-auto, kick start clutch

Hydraulic front and rear disc brakes

Electric start
This Trailmaster is part of a complete line of dirt bikes, so you can buy one for every member of the family and your kids can stick with the same line as they grow.
Trailmaster TM15 Dirt Bike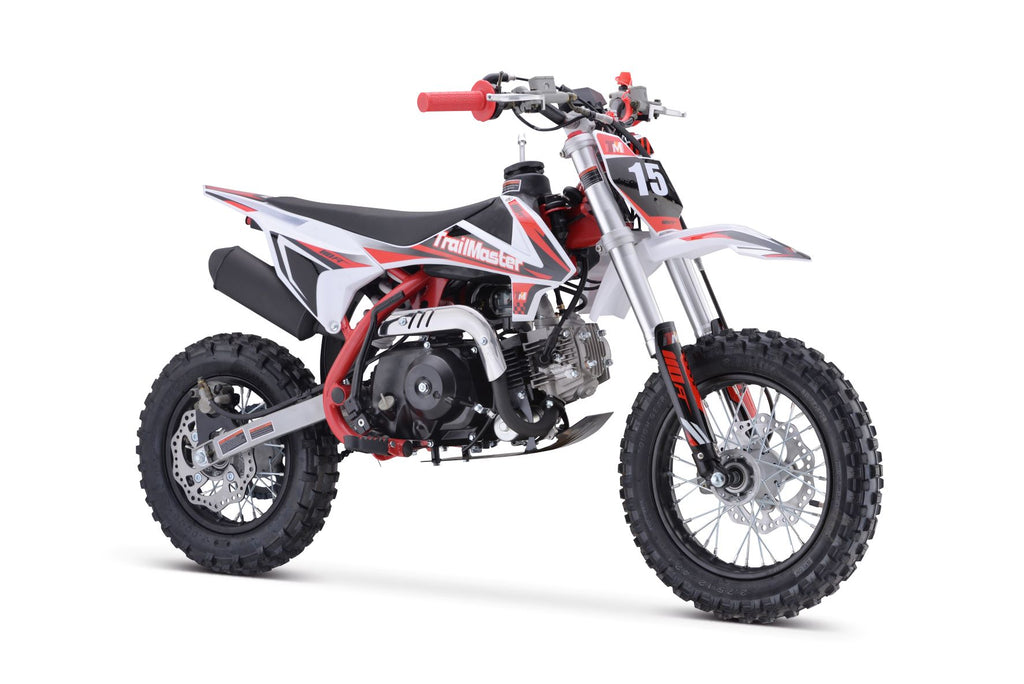 If you're looking for a kids' dirt bike for an older child, this Trailmaster TM15 Dirt Bike could be the one to buy. It features a 110cc four-stroke motor, semi-automatic transmission, and a 28-inch seat height.
Some of this dirt bike's top features are:
Electric and kickstart

Hydraulic front and rear disc brakes

40" wheelbase

Full suspension ride
This bike is an ideal gift for an older kid new to riding or prefers a smaller bike.
Ice Bear PAD50-3
The Ice Bear PAD50-3 is a youth off-road motorcycle with a 58cc, four-stroke engine and disc brakes. This bike weighs just 75 lbs. but can support riders up to 100 lbs., making it light enough for young riders but strong enough for older kids.
What To Look for in a Kids' ATV
ATVs combine the stability of a mini jeep with the off-road performance of a dirt bike. Consider these factors when choosing a kids' ATV.
Engine Size
Beginners and young children should stick to lower speeds while learning to ride. Kids aged 6-10 and new riders will do best with smaller engines, while older kids and teens can move up to more powerful vehicles once they have learned to ride the smaller ATVs safely.
Vehicle Size
There should be at least 3" of clearance between your kid's body and the ATV seat when your child stands up while on the vehicle. If there is less than that, the ATV is too big. Your child should be able to grip the handlebars and move them all the way to the left and right. Your kid must also be able to operate the brake and throttle with one hand.
Safety Features
Look for these safety features when shopping for a kids' ATV:
Lock fastener on the battery compartment

Solid battery retainer

Safe braking system

Parental controls for maximum speed
Ideally, look for a model that conceals the parental controls under the seat so your child can't easily adjust them.
Suggested Kids' ATVs
Motobuys offers a variety of popular models. Browse some of the hottest products for the holiday season.
RPS ATV110-6S Youth Hunters Style
The RPS ATV110-6S Youth Hunters Style is great for new riders and children aged six and up. This ATV offers stylish features and mid-range performance with its four-stroke 110cc engine.
This model has the power to ensure your little tyke will have no trouble keeping up with the big kids. Young riders will enjoy a comfortable stance and smooth-riding suspension while the remote control engine-kill key fob and speed limiter help parents keep them safe.
RPS UT125-8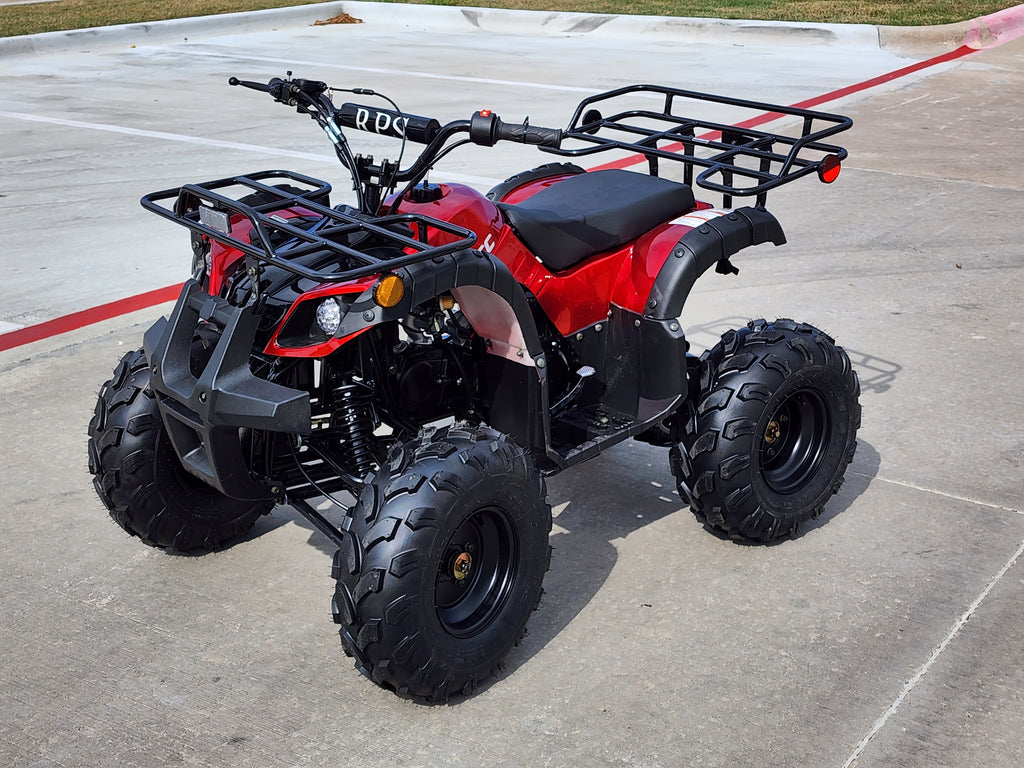 The RPS UT125-8 is a rugged model for kids aged 10 and up. This ATV's robust midsize steel frame can accommodate a wide range of riders. It features a powerful 124cc air-cooled four-stroke engine and automatic transmission.
This kids' ATV has an electric start and reverse. It also has dual headlights, brake lights, and a horn. Safety features include a removable key and a throttle limiter.
Coolster 3125R Youth Quad Mid-Size Deluxe Sport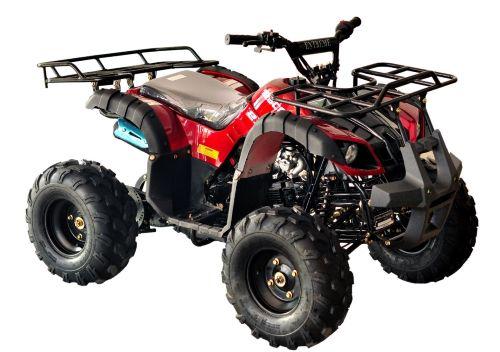 The Coolster 3125R Youth Quad Mid-Size Deluxe Sport is a midsize ATV with a 107cc four-stroke engine. It features an upgraded suspension, a high-quality carburetor, and a superior frame for elite performance.
This ATV is fully automatic and has forward and reverse modes. This rugged model can handle a variety of riders, and the upgraded suspension provides a smooth ride for kids aged 10-14.
Selecting Kids' Go-Karts
If your kid loves racing, a go-kart could be the perfect gift this holiday season. Go-karts for kids come in a variety of styles and capabilities. Consider these factors when choosing a kart.
Age Appropriateness
Young children and new drivers should stick to lower-power vehicles until they can safely handle higher speeds. Check the manufacturer's guidelines to ensure the kart you consider is appropriate for your child. Some kids' go-karts come with adjustable features that allow kids to continue to drive safely and comfortably as they get older and bigger.
Safety Features
Kids' go-karts should have roll cages, seatbelts, sturdy frames, and reliable braking systems. Go-karts experience a lot of wear and tear with typical use, so choose a durable model that will hold up.
Intended Use
You will need a different type of kart depending on where your child wants to drive it. Karts for rough terrain should have a heavy-duty suspension and rugged tires, while track karts should offer a smooth ride and superior maneuverability.
Kids' Go-Karts Suggestions
Motobuys offers a wide selection of go-karts for drivers of all types. These are some of our most wished-for models.
Trailmaster Mini XRX+
The Trailmaster Mini XRX+ is one of the best-selling models for kids aged 5-10. This go-kart features a 5.5 hp engine, large frame, big tires, live axle, electric start, and LED headlight. The adjustable seat and pedal allow the kart to grow with your child, and the five-point safety seatbelt and speed governor ensure safety.
Trailmaster Cheetah i6
The Trailmaster Cheetah i6 go-kart features a super quiet 650W DC motor, a three-speed switch with a maximum speed of 19 mph, and a capacity of up to 30 miles when fully charged. It has a forward and reverse gear, adjustable seat, LED headlight, and four-point safety seat belt.
Trailmaster Blazer 200R
The Trailmaster Blazer 200R is a stylish midsize cart with a powerful 200cc engine. It features a fully automatic transmission with reverse, a heavy-duty frame, and a full suspension that can handle rough trails.
Its best features include dual adjustable slide seats, headlights, taillight, an electric start, disc brakes, and a cargo rack. It also includes a throttle limiter for safety.
Where To Buy a Kids' Mini Jeep or Other Kids' Motorsports Vehicle
If a mini jeep for kids is on your holiday gift list, Motobuys is the place to buy one. We have a wide selection of mini jeeps, dirt bikes, ATVs, and go-karts for kids of all ages and experience levels. Check our 
inventory
 online or contact us for more information.