Holiday Gift Guide: The Best UTV for Families
When the holidays are coming up, you're probably starting to think about your shopping list. Rather than a bunch of little gifts that might be thrown out halfway through the year, think big! The best UTV for families is something everyone can enjoy together all year long. With all the different features of different models and brands, it's worth taking the time to figure out which would be right for your family.
Considerations When Choosing the Best UTV for Families
Choosing a UTV for your family doesn't have to be hard when you know what to look for. There are features to please everyone, and there are also some considerations to keep in mind:
Size

- The vehicle you decide to get for the holidays should be determined in part by how many people will use it regularly. Consider the size of your family. How many people will be on the side-by-side at one time? If you need more space for more people, choose a larger vehicle. 

Clearance

- Due to the nature of the vehicle, most UTVs will have proper ground clearance, but you need to consider what your family plans to use it for. If you feel you need more clearance, look for higher models. There are also suspension kits you can install if more clearance is needed.

Power

- The size of the best family UTV factors into its power. Smaller vehicles often have smaller engines and less power. Consider the terrain where you plan to use your UTV and buy one accordingly.

Storage

- If you plan to take your side-by-side on long trips, you might want more storage space. If you plan to use it for fun, shorter excursions, you might not need too much storage space at all.
Reasons the Best UTV for Families Is a Great Gift
If you want to be the favorite gift-giver this holiday season, a UTV is a no-brainer. There are many reasons this is a great family gift:
Riding through any terrain

- Especially if your family spends a lot of time together going on different adventures, the best UTV for families will get you there regardless of where you're headed. UTVs are made for rocks, sand, turf, and mud.

Getting through most spaces

- UTVs are more narrow than trucks and other sports vehicles. This allows your family more flexibility when trying to reach a particular destination.

Keeping you safe

-

Safety

is always an important feature when considering a family gift. Unlike many other types of power sports vehicles, UTVs are often equipped with seatbelts and windscreens. The wide-set wheels provide more stability as well.
Great Options for the Best UTV for Families
After learning all you can about the considerations and reasons for choosing a UTV as your family gift, look at the top options. A rugged side-by-side will last for many years, offering memories you won't soon forget.
TrailMaster Challenger 200 UTV
The Challenger 200 is perfect for families with children. If this is your first experience with these vehicles, this is a great option. Along with a slightly smaller build, there is a roll cage and side rails for added safety. Parents can limit speeds to 10 miles per hour for their young drivers in training.
With seating for two, the Challenger 200 is a gift intended for smaller families or families who wish to purchase more than one vehicle. It comfortably fits individuals up to 6'2" with low, sit-in bucket seats.
TrailMaster Challenger 200X UTV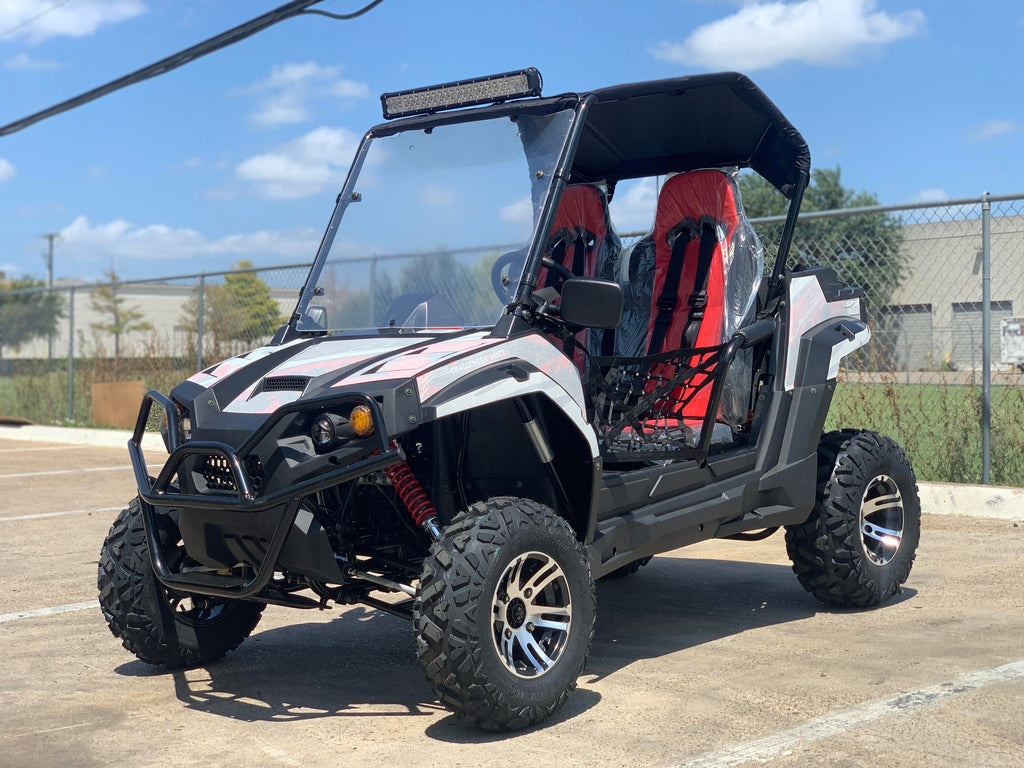 The Challenger 200X was designed for youth but also fits adults up to 6'2". The hydraulic disc brakes and roll cage are just a couple of many safety features. This model also allows parents to limit the speed to 10 miles per hour, putting it in the running for the best UTV for families.
Several aspects of the Challenger 200X are adjustable. This includes the steering wheel, shock absorbers, and driver seat, so anyone can get comfortable behind the wheel. With a spacious cargo bed, you can tote around everything your family will need on a trip.
TrailMaster Challenger 4-200EX UTV
The Challenger 4-200EX is a four-seater with many of the same safety features as its smaller counterparts. The hydraulic disc brakes, roll cage, and full lighting package can help any parent rest easy when their kids are out having fun. As a four-seater, the whole family can go out together.
The engine of the Challenger 4-200EX was specifically made for off-roading, so if that's what your family enjoys, this could be a quality selection. With additional cargo space, you can be gone for hours or days at a time and be able to carry everyone and everything you need.
TrailMaster Taurus 200E-GX UTV
The Taurus 200E-GX has a rear fold-up seat for two if you need to carry more people than cargo. There is an option to add a utility dump bed as well, taking the space of the rear fold-up seat. The dump bed is suited for hauling camping or hunting gear, as well as taking care of jobs around the yard.
A digital dashboard makes the Taurus 200E-GX easy to use. With an optional folded windshield, extended hard top, and rear-view side mirrors, it could be the best UTV for families.
TrailMaster Taurus 200E-GV UTV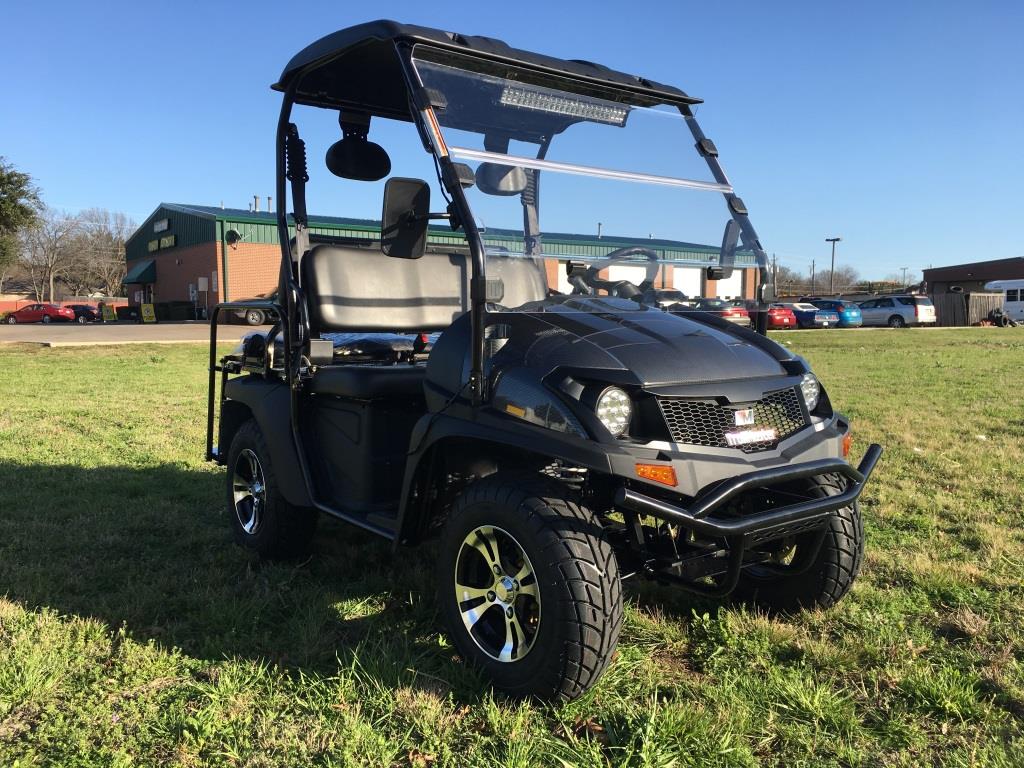 The Taurus 200E-GV is a golf cart style side-by-side that seats four with the rear fold-up seat. It can also be replaced with the utility dump bed if that works best for your family. Low gear mode allows the UTV to climb with ease.
The large gas tank of the Taurus 200E-GV means you can have hours and hours of fun without having to stop. What really puts this on the list for best UTV for family outings is the driving experience and rugged suspension.
Discovering the Best UTV for Families
There's no reason you can't go bigger and better this year when it comes to gifts for your family. At Motobuys, we want to help you find the perfect power sports vehicle so you can make memories all year long. View our selection of
UTVs and side-by-sides
today to check out the best UTV for families, and get in touch if you have any questions.