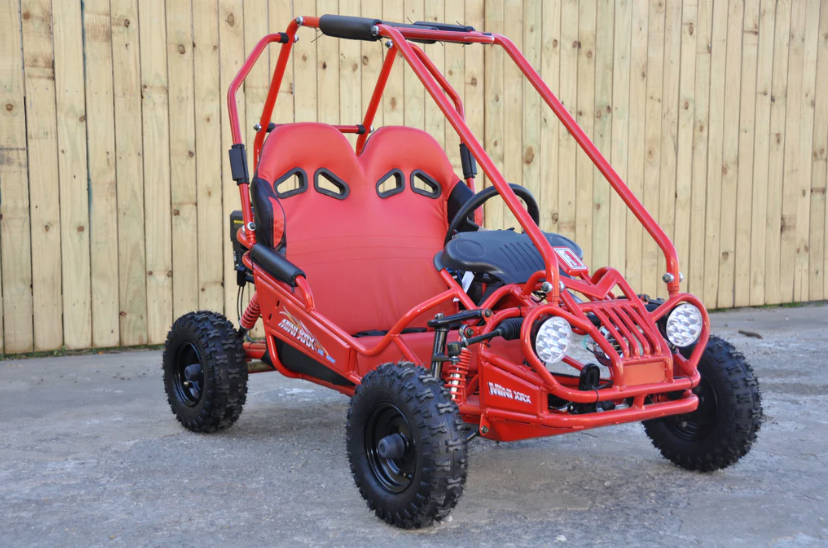 What To Know About Dune Buggy and Go Kart Safety Gear for First-Time Riders
If you've decided to purchase a go kart, dune buggy, or other UTV for the first time, you know you're in for a fun summer. However, before you get out there and start tearing things up, you need to make sure you're prepared with the correct clothing and safety gear. From a safety-certified helmet to full-finger gloves, here are a few things to know about go kart safety gear and why it's important.
Why Go Kart Safety Is Important
Go kart and dune buggy riding can be a lot of fun as long as it's done responsibly. However, as with any other type of motorsport, it does come with risks. Both dune buggies and go karts are capable of reaching high rates of speed. Additionally, these vehicles are not fully enclosed. That means you should dress and drive responsibly so you can enjoy your rides with minimal risk.
Go Kart and Dune Buggy Safety Gear
You wouldn't go scuba diving without a scuba suit, but many people don't realize there are similar recommendations for safety gear while riding dune buggies and go karts. The clothing and go kart safety gear you wear will not only give you a safer ride but also help you stay comfortable so you can ride longer.
If you've never ridden a dune buggy or go kart before, you may not know what type of gear you should have. Here's a brief overview of the top pieces of go kart gear you need to invest in for the safest possible rides.
Helmets
No one should drive or ride in a go kart or dune buggy without a quality helmet. This is the most basic and important piece of go kart safety gear because it can help protect you from serious head injuries or death.
If you go to an official go kart track, you'll probably be required to wear a SNELL-approved helmet. This is a helmet that's been certified by the Snell Foundation. You can tell that a helmet is SNELL-certified because it will have a small label with a serial number on the inside. These helmets are ideal because they've passed rigorous safety regulations and are capable of providing optimal protection. If you want to get a SNELL-certified helmet, look for a dealer that supplies them.
When selecting a helmet for your go kart riding, you should also look for one that has a face shield. You want full-head protection in case you get in a wreck or encounter debris during your ride. Drivers with long hair should always tie their hair up before riding to ensure it doesn't become entangled in any of the dune buggy or go kart components.
Gloves
Gloves are essential for dune buggy riding. They can help you keep your grip on the steering wheel, even when you encounter dusty conditions. They can also prevent your hands from slipping if they get sweaty during your ride. Wear full-finger gloves for optimal protection and make sure they are made from a durable material that will protect your fingers from abrasions.
Shoes
Many people don't think about shoes when they make a list of go kart safety gear. However, it's important to keep your feet safe when you're riding. Never wear open-toed shoes when you're stepping into a go kart or dune buggy. Instead, put on closed-toed shoes or ankle boots. Look for shoes that will help you maintain a good grip on the foot pedals so you always stay in control of your vehicle (especially at high speeds). Boots that provide ankle support can help you avoid being injured on rough terrain.
Eye Protection
If a rock or other small piece of debris flies up at you while you're riding in a go kart, you don't want your eyes to be exposed to the hazard. Make sure you always wear adequate eye protection that will not only protect your eyes from debris but help you see easier in harsh sunlight as well. A durable pair of tinted goggles can help you enjoy your ride while blocking out unwanted debris and sunlight. Plus, there's no denying a quality pair of go kart goggles can make you look cool while you ride.
Clothing
You shouldn't wear just any old outfit on your rides if you're serious about go kart safety. Loose-fitting clothes can be particularly dangerous because they could easily get snagged while you're riding. You also want to ditch the shorts and t-shirts because they could leave you susceptible to road rash and abrasions.
Instead of loose or flowy apparel, wear snug clothing that fits well and doesn't flap too much in the wind. You should also wear long-sleeved pants and a long-sleeved shirt to keep your body safe from road rash should you have a spill.
Long-sleeved clothing can also prevent you from getting sunburned while you ride. Remember, dune buggies and go karts are not enclosed, which means you'll be fully exposed to the sun's harsh rays while you ride. The clothing you wear can play an important role in sunburn protection. For the bits of your skin that are still exposed, apply sunscreen before longer rides.
Performing a Go Kart Safety Check
Once you have all your go kart gear ready to go, make sure you check your vehicle before you start kicking up the dust. This will help you avoid any unexpected breakdowns due to faulty systems or parts. Make sure the brakes are in good working order and the engine fuels are full before your ride. You should also check your tire pressure to ensure your vehicle can get a good grip on the sand. If you notice any issues during your inspection, take care of them before you go out on the dunes.
Get Extra Parts To Improve Go Kart Safety
If your go kart has old or worn-out parts, you don't want to risk driving it until you fix it up. Remember, you can't put a price on go kart safety. If you need additional parts to get your buggy in good working order, check out our
parts inventory
at your convenience.