Holiday Gift Guide — Dirt Bikes for Kids or Youth
Imagine the look on your child's face when they see a brand new dirt bike waiting by the tree on Christmas morning. You can score some serious points by gifting a perfectly sized option for adventure and excitement. Shopping for dirt bikes for kids differs from shopping for yourself, but this guide will take you through the basics.
The Basics of Dirt Bikes for Kids
Dirt bikes are a great introductory gift into the world of power sports because there is no official minimum age to owning a bike. In fact, there is a special day dedicated to introducing children to the sport. The Take a Kid Dirt Biking Day gives kids new skills and confidence in their abilities, teaching them to love dirt biking from an early age.
Safety Concerns
Many concerns over letting kids have dirt bikes deal with safety. Accidents and injuries are possible, but this is true of any sport. Accidents happen when children ride bikes unsuitable for their size or skill level and ignore safety practices and protective gear. Evaluating your child's skill and maturity level is important when deciding on a kids dirt bike.
There are many training schools and resources across the nation that can help parents and children get adjusted to a new bike. If you're not confident in your ability to teach your child the basics of safety and handling, you can enroll in one of these classes to reduce the risk of an accident.
Safety Gear
Preparing your child to ride a dirt bike for kids goes beyond basic instruction. Your child will also need protective equipment. You can usually find child-sized accessories and safety gear at retailers selling dirt bikes for kids, but you want to purchase gear from a known manufacturer or dealer. Imitation gear may not have the safety rating necessary to keep your child safe. Here are some accessories and brands to consider.
Helmet
Even though your child may want to choose a helmet based on how cool it looks, the most important factor is the fit. Many think buying a slightly oversized helmet gives a child room to grow, but once your child breaks in the material, it can be so loose it comes off during a crash.
A safe helmet fits snugly, so try them on before you buy. You must also invest in a helmet with a DOT rating, the basic safety certification. A SNELL rating increases safety, and Bell Youth Moto carries several children's sizes.
Pair of Boots
Having a pair of boots improves your child's safety and ability to control a dirt bike for kids. With an enduro or off-road trail boot, it's easier to feel the shifter, pegs and rear brake peddle since the boot is more flexible. With a stiffer MX boot, it's more protective if your child gets into a crash. Choose a size that is snug with both length and width.
Eye Protection
Since a lot of dirt biking riding is off-road with dust and rocks, a pair of goggles will help your child see better. Rather than sunglasses that can come off, a pair of goggles will create a seal that keeps out debris. Test-fit the goggles to make sure they're the right size. If you invest in a helmet with a face shield, the goggles aren't necessary.
For kids, mirror or smoke tints aren't practical when riding in the woods or cloudy conditions. Yellow tint or clear goggles are best in dark areas, with a dark or smoke tint being a good option when riding in open, sunny conditions. FMF, 100% and Fox Racing have great options for kids.
Gloves
Be sure to look for gloves when you are shopping for dirt bikes for kids. While they aren't fully protective during a crash, they make controlling the bike easier and more comfortable. Good-fitting gloves can prevent callouses, keep hands from slipping off the grips and prevent a loss of control.
The Options for a Dirt Bike for Kids
Now that you understand the basics of safety gear, you can think about which bike to purchase. Different engine sizes, brake positions and more can also influence the safety of your child's ride. These are some great options to fit a range of riders.
This is a perfect entry-level bike for younger children because of its small frame and lower seat height. A 4-stroke 110 cc engine propels it and has a 4-speed semi-automatic transmission. The seat height is just shy of 25 inches and holds a maximum weight of 150 pounds. A 110 cc bike can generally reach speeds between 35 and 45 mph, making the Trailmaster TM-11 110cc Dirt Bike a good holiday gift for kids eight and up.
The electric start is another feature that makes this bike a great choice for beginner riders. It also sports front and rear disk brakes and full suspension support through dual inverted front forks and a mono-shock rear end.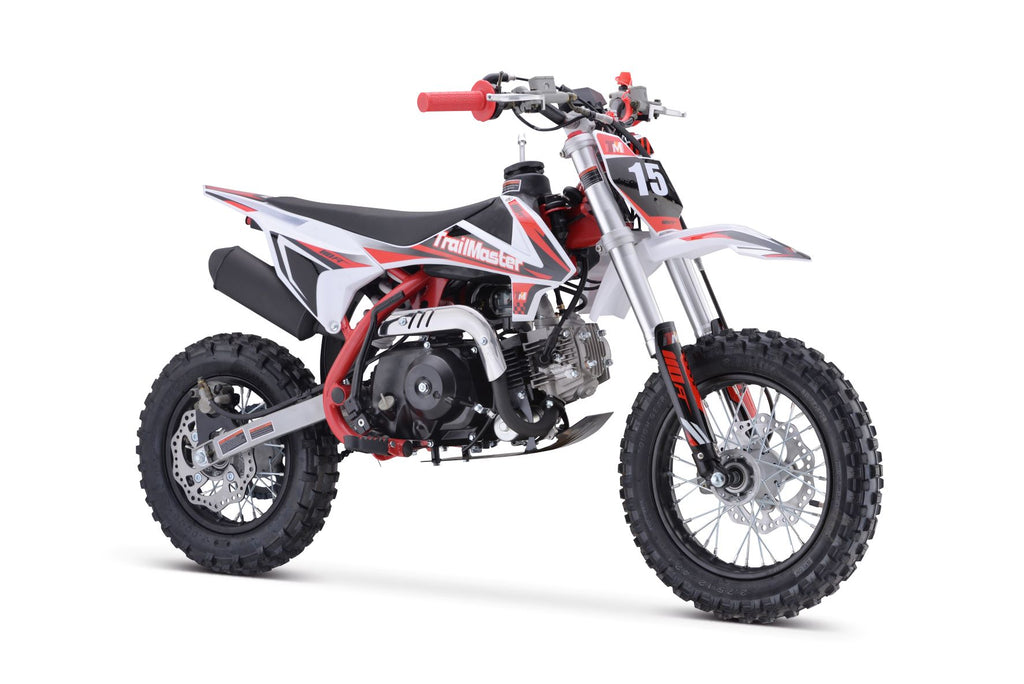 Another quality holiday gift option from the Trailmaster lineup of dirt bikes, the Trailmaster TM-24 125 cc Dirt Bike is an upgraded version of the TM-11. Older kids will enjoy the bike's control, speed and maneuverability, but the 28-inch seat height makes it easier for taller kids to sit comfortably.
The bike uses a semi-automatic transmission to help new riders learn to use the gears for acceleration and how to stop safely. Hydraulic front and rear disc brakes make for smooth stopping, while the kick-start and electric start make it easy to get up and go.
Your older kids will love graduating to the Trailmaster TM-24 125 cc Dirt Bike. In addition to increasing the weight rating to 170 pounds, this bike offers a 32.7" seat height and 42.3" wheelbase. The increased engine size also improves speed capabilities to between 50 and 70 miles per hour.
Older riders get more control options with this bike, as it has a manual clutch transmission and kick-start. It has a range close to 10 miles on a tank of gas, and the superb ground clearance of 13.6" lets your child experience bumps and jumps without issue. With several color choices, you will surely thrill your child during the holidays with one of these dirt bikes for kids.
If you have small children who have a sense of adventure and need their own ride, the Ice Bear PAD 50-3 is ideal for teaching kids the basics and getting them started in power sports. This bike can support up to 110 pounds, but since it weighs only 75 pounds, young riders won't have a problem with control.
Though it does have a pull start, it has an automatic transmission. New riders don't have to worry about grinding gears or working the clutch. With a seat height of just under 24" and speeds that reach a maximum of 22 miles per hour, you have a great gift choice when getting your child into the sport. Wire pull brakes make it easy for your child to focus on maintaining their balance while safely stopping.
The Maintenance Requirements for a Kids Dirt Bike
True to its name, a dirt bike gets messy from riding through water, dirt, mud, gravel, foliage and more. Taking care of the bike is important if you want your child to enjoy riding for a long time. Keep these maintenance needs in mind when choosing dirt bikes for kids.
Changing or Cleaning the Air Filter
Mud, sand, dirt and other grime will ruin the quality of your air filter. A clogged filter reduces engine speed and gas efficiency, so either clean the air filter after each use or change it out. Keep the right level of oil around the filter as well, as too little doesn't clean out contaminants and too much will bleed into the engine.
Changing the Brake Pads
You want your child's bike brakes to work correctly, so check them routinely for wear. Sandy and muddy conditions erode the pads quickly. Replace the pads when you notice 1 mm or 0.04 inches of material left. Some pads come with an indicator mark showing it's time for replacement.
Changing or Refilling the Oil
Your owner's manual will convey when to replace the engine oil and the oil filter. However, you should periodically check the oil level and refill it as necessary.
Visually Inspecting Components
Look at the chain after or before each ride to see if it requires tightening. Apply a lubricant as necessary before removing any slack from the chain. Check the sprockets for wear by looking for an asymmetrical wear pattern between the teeth of the chain. Replace these parts as necessary.
Your Source for Dirt Bikes for Kids
If dirt bikes for kids are on your holiday gift list, shop the selection at Motobuys. We offer competitive prices, fast shipping and excellent customer service. 
Contact us
today for more information about our youth bikes.