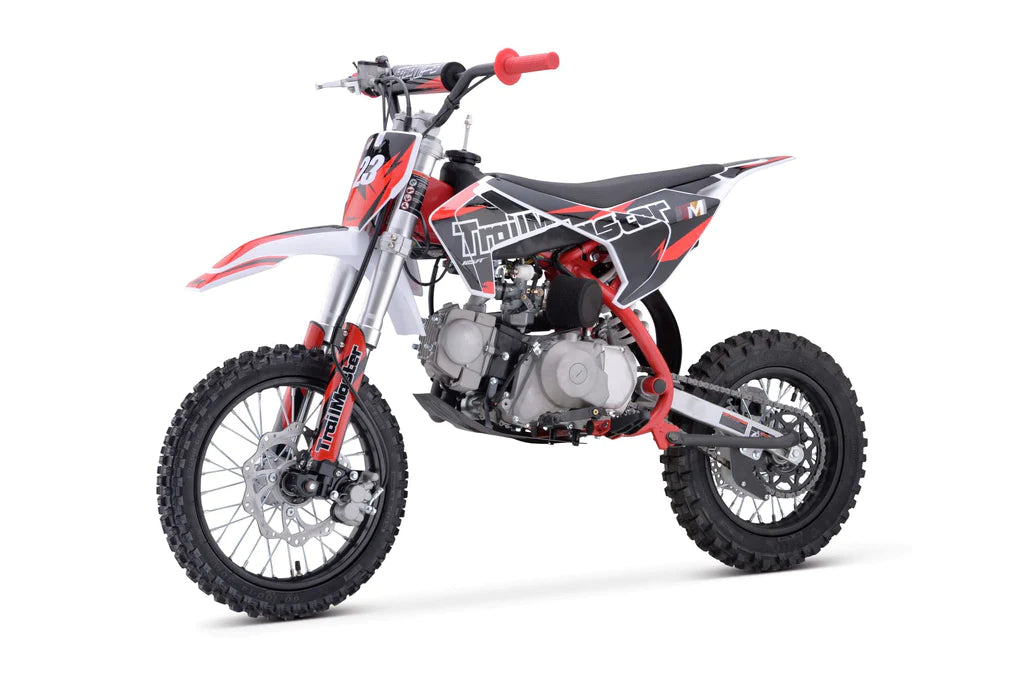 Are 125CC Dirt Bikes Good for Beginners?
Everyone has to start their off-road adventures somewhere. Dirt bikes offer amazing opportunities for outdoor exploration and family fun, and they're a blast to use. When choosing the ideal ATV, side-by-side or dirt bike for your family, engine size is one of the most important factors. Are 125cc dirt bikes good for beginners?
The Basics of 125cc Dirt Bikes for Beginners
For many beginners, a 125cc dirt bike is perfect. The 125cc engine has enough power for fast acceleration and solid speed, but it's also relatively easy to control. This balance of speed, maneuverability and control is essential for learning how to operate a dirt bike safely and skillfully. Unless you weigh over 150 pounds, our team generally recommends starting out with a 125cc four-stroke, air-cooled engine.
Factors To Consider for Your Dirt Bike Engine
Buying a dirt bike is like shopping for your first car. It's exciting, but you also need to be paying attention to the details.
Age
For many teens and some adults, a 125cc engine is going to be the right choice. You want good power, but you also want to avoid so much power that the bike gets away from you. On the other hand, older teens and adults may prefer the increased power that 250cc motors offer.
Weight
Generally speaking, 150 pounds is the cutoff weight for a 125cc engine. If you weigh more than that, it's going to seriously affect the power, performance, acceleration and handling of the bike off-road. Many adult bikes for beginners rock 250-300cc motors for this reason. The 250cc option can accommodate between 150 and 250 pounds of weight.
Budget
Many factors determine a dirt bike's price, but the engine is a big one. You can find high-performance Trailmaster 125cc dirt bikes for around $1,000-$1,150. Similar bikes with 250cc engines cost about $2,250. Both options are a great investment, but you have the freedom to choose which fits your needs the best.
Terrain
The more power you have, the better your dirt bike can scale uphill terrain at speed. If you're mainly riding in fields or flat wilderness terrain, you can probably get away with a lower-displacement engine.
On the other hand, if you love going with friends on backwoods riding trips full of hilly or mountainous terrain, a larger 250cc engine is your best bet. You don't want to be struggling to keep up. More power is also important for tackling dunes in style.
Location
The majority of dirt bikes aren't street-legal anyway, but some states have additional engine restrictions for off-highway use. For example, in California, bikes sold after 2021 must meet certain emissions standards to receive the Green Sticker for off-roading on public lands. Older bikes with a Red Sticker can still use state trails, but only during certain riding seasons.
Goals
If you only plan to have fun off-road occasionally, 125cc dirt bikes let you get your feet wet without investing too much time or money. If you end up discovering that you prefer the added stability of ATVs, switching is easy.
On the other hand, if you're passionate about all things motorcycles, a 250cc dirt bike may be a better fit. This engine gives you a good place to learn the basics while growing with you. Even when you have more skill, your 250cc motor can give you the growl you want without bottoming out the throttle.
Two-Stroke Versus Four-Stroke Engines for a 125cc Dirt Bike
There's one final factor you have to consider when shopping around for dirt bikes: buying a two-stroke or four-stroke engine. We've left it for last because it makes things a little confusing.
Engine displacement affects the total horsepower; however, the motor's "feel" often relates more to the two-stroke versus four-stroke option. In fact, two-stroke 125cc dirt bikes can feel more aggressive than four-stroke 250cc engines.
Four-stroke engines are popular because they offer many advantages, including:
Higher top speed

Better torque at low RPMs

More balanced acceleration

Heavier overall weight for improved traction

Significant engine braking for greater control
With a four-stroke engine, you can tackle difficult off-road terrain more easily, but you probably won't win races against two-strokes.
Two-stroke engines offer a huge initial burst of power. This makes for a wild ride, and not everyone likes the "flying by the seat of your pants" sensation. Of course, some riders are addicted to it.
The Question of Dirt Bike Experience
You may think that knowing the ins and outs of highway cruisers or street bikes means you're ready for a "pro" dirt bike. Trust us, it doesn't. There's just no comparison between the crazy nature of off-road dirt biking and the laid-back feel of riding on smooth blacktop. If motorcycles were horses, dirt bikes would be the bucking broncos.
Tips for Buying 125cc Dirt Bikes
As dirt bike experts, we want you to find the perfect fit for your personality and lifestyle. Following a few pro tips can give you better results.
Be Yourself
You don't have to prove anything to anyone. Resist the temptation to buy a huge motocross bike to show off. Ride quality and fun are more important.
Keep Your Feet on the Ground
Literally, you want your feet to touch the ground. Stability is important off-road, especially when you're trying to get through muddy, sandy or rocky terrain. Check seat height when buying for kids, too. At ages 10-12, the seat should be about 31 inches high.
Borrow a Bike
Since dirt bikes aren't street legal, you can't exactly hop on one at the dealership and take it for a spin. A good way to get a feel for your preferences before buying is to borrow a friend's 125cc or 250cc dirt bike for a few hours. Having a friend give you pointers can be invaluable for avoiding common beginner mistakes, too.
The Best 125cc Dirt Bikes for Your Family
For beginners, 125cc dirt bikes or 250cc models are excellent choices. They give you the perfect amount of freedom. If you want to invest in a motocross bike later, you'll know exactly what you like in a bike. At Motobuys, we stock high-quality dirt bikes for kids, teens and adults at incredible prices.
Shop our selection
right away.