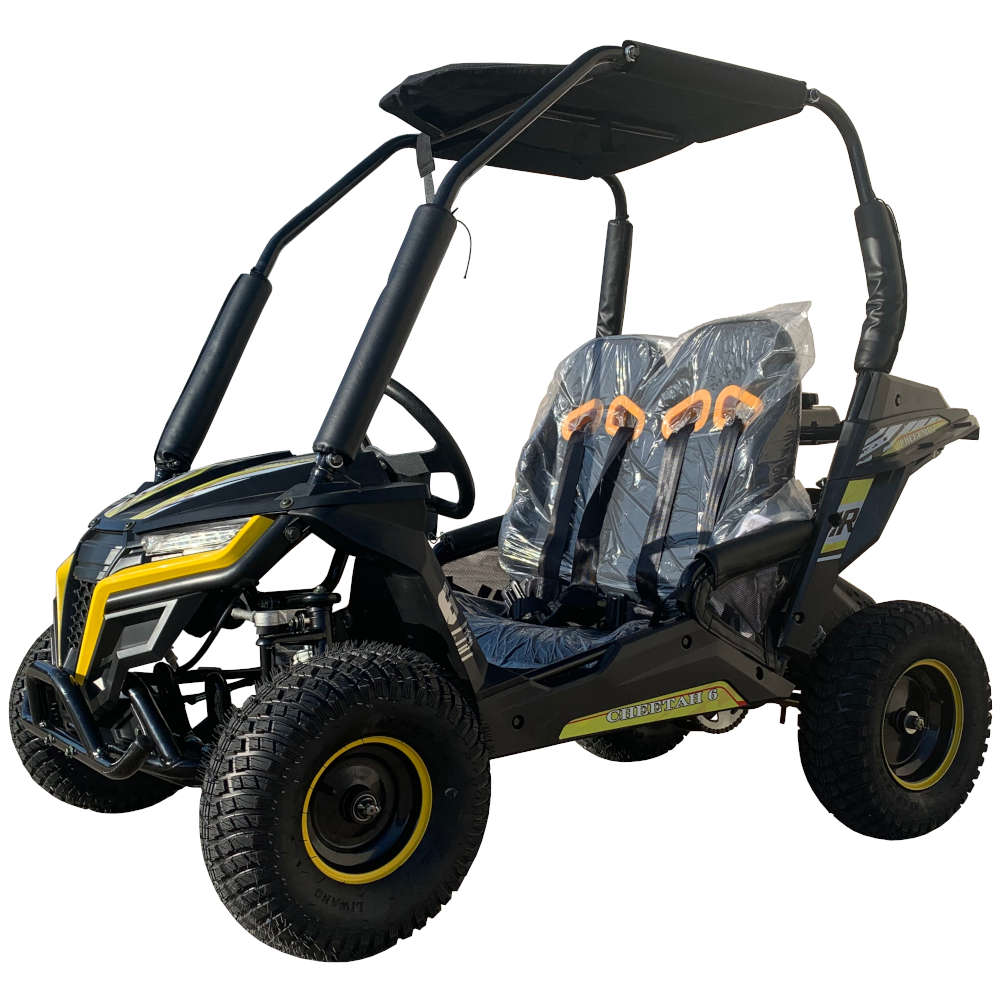 The Best Off-Road Vehicles for Spring
Spring brings perfect temps and dryer weather, making it the ideal time for off-roading — unless you love mudding in the rain, that is. Whether you are striking out on your own or taking the family to explore desert dunes or green forests, you need a powerful ride. This guide can help you choose the best off-road vehicles for spring riding.
Best Off-Road Vehicles for Spring: Go-Anywhere ATVs
Don't have $85,000 lying around to invest in a tricked-out truck or Jeep? That's not a problem. You can have a blast off-roading for a lot less with supercharged all-terrain vehicles. High-performance ATVs fill your need for speed and give you greater freedom for exploration. We already have a few favorites this year.
Trailmaster C125 Mid-Size ATV
The Trailmaster C125 is a youth ATV with fast acceleration for off-road adventures. The 125CC 4-stroke air-cooled engine lets teens have a blast on any terrain. The rugged frame delivers excellent durability and reliability for dirt, sand, rocks and trails. At around $1,500, this model is one of the best off-road vehicles for spring for adventure lovers.
RPS RS200 Full-Size ATV
Adults want to have fun, too. With the RPS RS200, the whole family can explore rich scenery and exciting trails. With 21-inch front tires and a heavy-duty suspension, the RS200 offers plenty of clearance and a great ride on and off trails.
Whether you're into racing or exploration, this model is easy to customize to your preferences. With a price tag under two grand, you have plenty of cash to spend on aftermarket upgrades.
RPS LH-300 w/ Winch
For mudding in the middle of nowhere, the RPS LH-300 offers an impressive set of specs. The four-stroke liquid-cooled motor cranks out 300 ccs of power, plus a solid line rating for recovery.
This heavy-duty vehicle is an off-roader's dream, providing a McPherson independent suspension and an automatic CVT for a smooth ride. The 4x4 all-wheel drive can tackle 30-degree slopes without problems, letting you explore mountainous terrain and dunes equally well.
Best Off-Road Vehicles for Spring: Multi-Rider UTVs and Go-Karts
ATVs are a blast for people who love being behind the wheel. When you want family fun with two or more riders, it's time to kick up the notch for vehicle space. The best UTVs and off-road go-karts (dune buggies) can go the same places an ATV can, but you get to bring a friend or two along for the ride.
Trailmaster Challenger 300EX EFI
With a 300cc engine, automatic transmission, heavy-duty suspension, disc brakes and independent rear axles, the Trailmaster Challenger 300EX is made for fun with friends. It can hit a top speed of 45 mph and traverse many terrain types. UTVs provide a great mix of stability, ride comfort, traction and cargo space for outdoor adventures.
Trailmaster Sports Cross 1000 CC 4x4
For off-road enthusiasts, more power means more fun. This 1000 cc bad boy has an 85hp V-twin engine with electronic fuel injection and 3,500 lbs of winch recovery capacity.
The 29" tires offer excellent clearance for rocky surfaces while the powerful engine provides plenty of speed for beaches and dirt tracks. An independent front and rear suspension delivers incredible maneuverability on mountain terrain.
Best Off-Road Vehicles for Spring: Dirt Bikes
Spring means green, which sounds like "Go!" to us. Dirt bikes are all about raw speed and excitement. With a sleek profile and massive acceleration, these bikes let you go places other off-road vehicles can only dream about.
RPS 250
The RPS 250 is a full-size dirt bike just waiting to hit the trails and sail off jumps. The lightweight-yet-strong frame helps boost acceleration and top speed while delivering durability for ages. With the 229cc 4-stroke engine, you have plenty of power for exploring OHV areas weekend after weekend. Dirt bikes are a breeze to transport in the back of your truck for longer road trips.
Trailmaster TM11
Kids deserve to have fun on family trail rides, too. The TM11 is an excellent starter bike for teens, with plenty of power for fun but not too much to handle. Front and rear disc brakes boost safety and handling while the 110cc air-cooled engine and automatic transmission deliver dependable performance. This bike has your kids' back whether they're having fun in country fields, exploring pine forests or cruising around off-road trails.
Best Off-Road Vehicles for Spring: Factors To Consider
Choosing an off-road vehicle is exciting. To get a great fit, it's important to think about several factors.
Rider Age
ATVs and dirt bikes for teens have different specs than models designed for adults. Youth off-road vehicles weigh less and have a smaller profile. This makes them easier for younger riders to control and helps prevent accidents.
Rider Experience
The size of an ATV is also important for safety reasons. New riders need to learn how to control the power of a 125 cc engine before they're ready to take on the 200-300 cc range of full-size models. Make no mistake, a 125 cc off-road vehicle is completely capable on trails.
Two Wheels Versus Four
If you're comparing dirt bikes to four-wheelers, there are pros and cons to both options. Dirt bikes can take advantage of any OHV trail, even narrow ones. The slim profile can explore more places and accelerate faster.
On the other hand, 4x4s are generally more comfortable to ride. ATVs provide more stability, especially on wet terrain. They often have space for extra gear, too. For rugged adventures with a group of friends, it's hard to beat the dependability of a great four-wheeler.
Best Off-Road Vehicles for Spring: The Right Option for Your Needs
Every off-road enthusiast and adventure-loving family is different. Some riders love taking the road less traveled, and others prefer spending time with friends.
No matter your experience level, budget, favorite activities and travel plans, there's a 4x4 out there with your name on it. At Motobuys, we can help you find the best off-road vehicles for spring. Shop
ATVs, UTVs, go-karts and dirt bikes
at amazing prices right away.