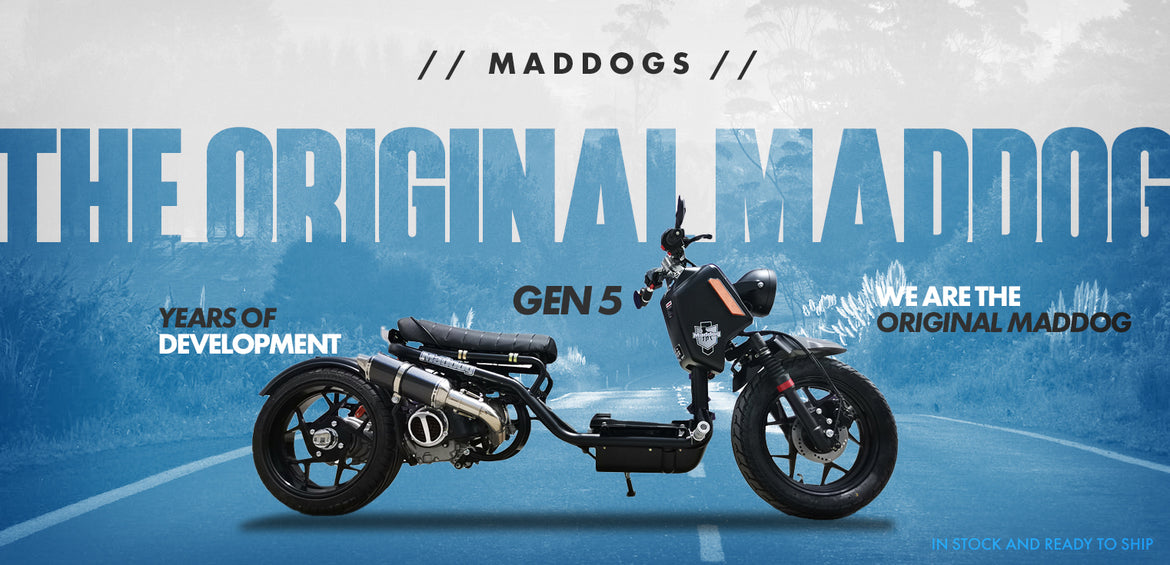 Our Guide to the Icebear Maddog
Scooters are a popular form of transportation, especially in urban areas. They can save you a ton of money on gas, easily maneuver heavy traffic, and are just plain fun to drive. Icebear Maddog scooters are a reliable choice that includes a lot of really cool features. In this article, we go over everything you need to know about these excellent vehicles.
The Newest Generation of Icebear Maddog Scooters
Ice Bear has been producing quality motorized equipment since 2006. The line of Maddog scooters has five generations of models. The latest generation was released in the past few years and is the coolest one yet. Maddog scooters are famous for being easy to operate, affordable, and street-legal.
Benefits of a Street-Legal Scooter
Maddog scooters are street-legal in every state except California. This means you can feel confident cruising public streets and highways without fear of repercussion. This is a necessary feature if you plan on using your scooter for more than recreation.
For all engines above 50cc, you need to add a motorcycle endorsement to your regular driver's license. This is universal for all states. Check with your local DMV for instructions on how you can obtain one.
What Makes the Icebear Maddog V So Cool
Maddog scooters are notoriously easy to operate. They are an economical choice with unrivaled gas mileage to save you money. They are uniquely stylish and include many parts and features that make cruising around an enjoyable experience.
Powerful Motor
To begin, let's discuss the motor. It is a 150cc four-stroke air-cooled GY6 engine with a CVT automatic transmission. This means it's fully automatic and has a powerful, reliable engine for powering through any situation.
The Maddog model uses a belt drive instead of a chain or shaft drive. The belt size is 835x20x30. This type of drivetrain has been around the longest, and for good reason. It's much quieter and smoother than a chain drive. It also doesn't require lube, which saves you some work and keeps your scooter a bit cleaner.
Icebear Maddog scooters can reach speeds of up to 55 mph. You can increase your top speed to 65 mph with the appropriate modifications. Maddogs are great for getting up steep hills or keeping up with traffic on the highway. Don't forget your helmet!
Rugged Wheels and Suspension
This scooter features two different types of wheels in the front and the back, giving you maximum stability and traction. There is a 12" tire in the front and a wide chopper-style tire in the back. Custom aluminum rims complete the package and give you a polished look.
The shocks are rugged enough to give you a smooth ride over bumpy roads and difficult terrain. You'll find a single shock suspension system with dual telescopic forks for reinforcement. You need a good suspension if you want your scooter to last on the open road.
As for braking, the scooter has two different sets of those as well to accommodate the separate tires. In the rear is a drum brake and in the front a hydraulic brake. These work together so you can stop on a dime or at a moment's notice. You'll never need to worry about sliding into a sudden obstacle.
Unrivaled Fuel Efficiency
The fuel efficiency of Icebear Maddog scooters is a major selling point. The 150cc model features a 1.2-gallon tank. With an impressive 90-100 MPG average, your tank will last you a long time. These scooters are the perfect solution to rising gas prices in the current economy.
There are a couple of ways to start a Maddog, as well. You can use the electric start or a kick start, giving you more flexibility. To look extra cool using the kickstart, you need to turn the ignition on, press the brake, and push down on the foot peg until the scooter starts.
Unique Look
One of the big draws of the Maddog scooter is its unique look. It combines the aesthetics of a scooter and a motorcycle into one. The sleek frame will impress everyone you pass by. The design incorporates a flat footrest for supreme comfort on long rides.
Icebear Maddog scooters also come in many different colors. The fifth generation specifically comes in black, burgundy, bright blue, neon red, and white. You'll find different options in older generations. No matter what your aesthetic is, you can find something you like. Why not have a little fun?
Street-Legal Features
There are a lot of features necessary to make a scooter street-legal. Maddog scooters include side mirrors, fenders, tail lights, a brake light, turn signals, and headlights. All the lights are high-powered LED bulbs. They also have a full instrument cluster, including an odometer and speedometer.
Icebear Maddog scooters are 100% DOT and EPA-approved with a high-performance exhaust system. You can feel good knowing your emissions and carbon footprint are clean and minimal.
Intuitive Handling
Maddog Icebear scooters are solid, easy to maneuver, and comfortable to ride. Starting and stopping is a breeze; you can go on a single tank forever. The powerful motor can get you up hills without a struggle and you'll look good doing it with a beautiful frame and color options. What's not to love?
The handlebars, throttle, and brakes are intuitive to grip and all your dials are easy to read. The padded seat is comfortable to sit on. You can choose between a side or a center kickstand to make parking stress-free.
Find a Quality Retailer of Icebear Maddog Scooters
When buying any vehicle, you want to go to a company you can trust. Look for a retailer that has a history in the business and can offer you services such as a warranty and free shipping. You want a wide selection and expert guidance when choosing your scooter.
We here at Motobuys have been in the business of Powersports since 1989. Our experts are enthusiastic about providing you with the best selection of scooters, ATVs, and dirt bikes on the market today. Reach out to learn more about Icebear Maddog scooters and the services we can provide.